Main Content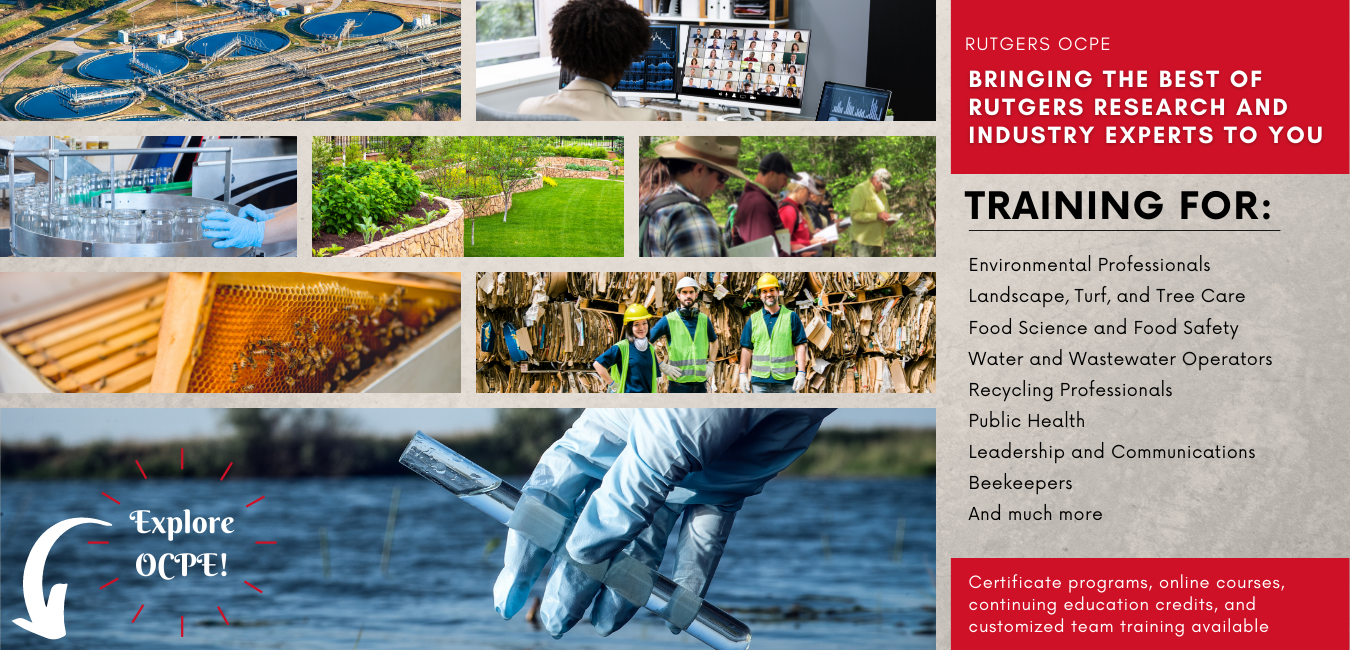 Who We Are
The Office of Continuing Professional Education – or "OCPE" – provides educational opportunities for adults through short courses and workplace training. Our creative, friendly, and collaborative team of approximately 30 individuals includes program coordinators, administrative assistants, registrars, marketers, accountants, and customer service staff.
We are proud to provide excellent customer service and offer practical, high-value programs that enrich our students with new skills, new careers and new opportunities. Most of all, we love knowing that we're making a difference in the lives of others and the world around us, and that passion drives what we do.

---
Vision Statement
The Rutgers NJAES Office of Continuing Professional Education (OCPE) seeks to measurably improve the quality of life of the residents of New Jersey and beyond through education and public service. Through the commitment and teamwork of our instructors and staff, we are dedicated to helping our society achieve a sustainable balance among the goals of human development, economic prosperity, and environmental quality.
---
Mission Statement
OCPE provides the highest quality opportunities for lifelong learning by building bridges between the needs of society and these resources of Rutgers University: the School of Environmental and Biological Sciences (formerly Cook College), the New Jersey Agricultural Experiment Station (NJAES) and Rutgers Cooperative Extension (RCE). With customer service as our focus, we actively seek to define educational and outreach needs and opportunities among current and potential customers. On a self-supporting basis, we offer programs and services that add measurable value to the people and organizations that participate in them.
OCPE has become a nationwide leader in providing quality outreach and public service programs. By working closely with RCE, university faculty and staff, private industry and local, regional, and nationwide organizations, we have attracted a team of dedicated instructors who consistently exceed our customers' expectations. We strive to make quality and customer service the hallmark of our programs.
Established in 1906 by Dr. E.B. Voorhees, OCPE has grown from serving 22 farmers in New Jersey to 15,000 professionals from around the world. Our programs have expanded from the single area of agriculture technology in Dr. Voorhees' day to topics including green industries, environmental management, life sciences, public health and youth development.
Looking ahead, OCPE will continue to develop programs to meet the educational demands of New Jersey's professionals and communities. We will focus on these areas: food science and engineering; nutrition, health and safety; natural resources and the environment; and human and community resource development. Regardless of the program topic, our customers' needs will remain at the center of our vision for the future.
---
Rutgers University Land Acknowledgement
We acknowledge that the land on which we stand is the ancestral territory of the Lenape People. We pay respect to Indigenous people throughout the Lenape diaspora – past, present, and future – and honor those who have been historically and systemically disenfranchised. We also acknowledge that Rutgers University, like New Jersey and the United States as a nation, was founded upon the exclusions and erasures of Indigenous peoples.
---
Equity and Inclusion
Rutgers University is committed to integrating diversity, inclusion, and equity into the shared pursuit of excellence. Learn more here.
---
What We Offer
Short Courses and Certificate Programs
More than 350 short courses and programs each year, covering a wide range of environmental and science-based topics, from landscaping to food science, wetland identification to wastewater treatment.
More than a dozen certificate programs designed to provide hands-on training and skills to help individuals launch or advance their careers in a particular field.
Every year, these programs give more than 20,000 participants a chance to develop skills, earn recertification credits, expand networks, and boost careers.
Customized Employee Training and Development
Our workforce development unit provides customized professional development courses to make your company more competitive while giving your staff the skills they need to be more effective, productive, and valued members of your organization. Trainings are held virtually, on-site at company facilities, or, if space isn't available, they are hosted by Rutgers.