Main Content
Written by Greg Saitz
In her job as a business analyst in marketing for Hartford Life, Kim Bugemelian has absolutely no interactions with bees.
That's probably a good thing, considering she's in an office. But things are about to change for the Long Valley resident during her off hours.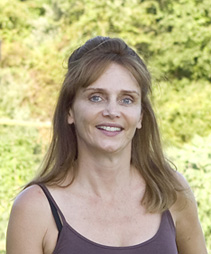 Bugemelian, who's been interested in bees since she was a girl watching her aunt and uncle's neighbor tend to his bee hives, has joined the Morris and Somerset County Beekeepers group and plans to start hives next spring.
She gained some important knowledge in June when she and her husband took the Bee-ginner's Beekeeping class offered by Rutgers. "I loved the program. Taking this class really increased my comfort level working with bees and starting my own hives."
After finishing the course, which she said was "great," Bugemelian wants to put bees on her property to help her organic garden and may rent her hives to a nearby apple farmer who expressed an interest.
"I definitely want to begin producing honey," she said. "It just seems there's so many things that can be done."
Learn more about Rutgers' beekeeping courses!