Main Content
Written by Greg Saitz
Last year, Pam Wardle was afraid of bees. She'd just been stung and had a severe allergic reaction, causing her leg to swell like a tree trunk. So what's the Bordentown City resident's newest hobby? Beekeeping, of course.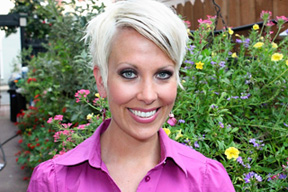 Wardle, 32, recently took the Bee-ginner's Beekeeping class offered by the Rutgers Office of Continuing Professional Education and now, she said, "I'm totally in love with bees."
Wardle, who works in international business development for consumer product maker Church & Dwight, got interested in beekeeping after a friend at work took the same class last year. She even bought a hive and equipment prior to the course.
Tending to her bee hive forces her to relax, Wardle said, and helps relieve the stress and pressures of her job. "It's been really good for me," she said.
And while Wardle is still nervous about getting stung, she carries an EpiPen and always visits her hive with another person just in case.
"Some people sky dive," she said, "I keep bees."
Learn more about Rutgers' beekeeping courses!