Main Content
Rutgers Turf Alumni Map: The Global #RUTurf Network
The map below shows the locations of Rutgers graduates who are currently working at golf courses across the country and around the world. By choosing Rutgers for your turf management education, you can join this worldwide network of alumni! The #RUTurf community can be a great resource if you are searching for a new job on a golf course, looking to hire someone for your greens team, or have technical questions.
How to Search the Alumni Map
Follow the directions below to search for a specific alumnus:
(Note: only works in a browser; does not work in the Google maps mobile app.)
Click on the square icon on the right side of the map header to view a larger map (will open in a new tab).
Desktop browser: Click on the magnifying glass icon and enter the person's name in the search field.
Mobile browser: Click on the name of the map in the white bar at the bottom of the screen. Then click the magnifying glass icon at the top and enter the person's name in the search field.
To request updates to map listings, please send an email to us at 2yearturf@njaes.rutgers.edu.
---
In Their Own Words: Alumni Reflect on the Strength of the Rutgers Network
Chase Christiaens, 2014 Two-Year Certificate Program Graduate
Meridian Golf Club

,

,

"The Rutgers Two-Year Turf Certificate, along with many great mentors, definitely accelerated my path to where I am today. The network of connections, friendships, and resources I built by attending the program are second to none."
Kevin Coghlan, 2013 Two-Year Certificate Program Graduate
The 27 Club

,

,

"I had an outstanding time during my two years at Rutgers! The ability to discuss turfgrass operations with people from all over the United States really helped broaden my understanding of the different regional practices and challenges."
---
Start Here, Go Anywhere with Your Turf Career
With a certificate from the Rutgers Professional Golf Turf Management School — which is known and recognized worldwide — doors will open for you. Our alumni work as superintendents or assistant superintendents in all 50 states and throughout the world. They also serve as sales managers, building and grounds managers, and owners and operators of landscape firms. Some #RUTurf graduates have landed their "dream" jobs with major corporations such as the New York Yankeees, NASCAR, or the Philadelphia Eagles.
Rutgers Professional Golf Turf Management School students work hard in class to learn new information and develop valuable skills. They gain insight and new confidence in themselves and build their own style as managers and leaders. Plus, they learn how to promote themselves as professionals with unique and valuable assets in the job market. Make the extra effort to connect with our network of Rutgers graduates and you too will grow your career!
---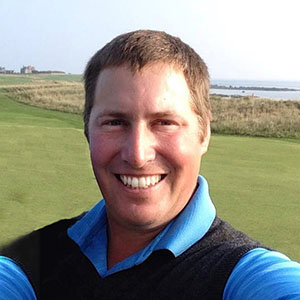 Alumni Profile: Joey Chase
2004 Two-Year Certificate Program Graduate
Reflecting on his experience working as the Assistant Superintendent at Golf du Domaine Imperial in Gland, Switzerland, Joey said:
"When my club hosted the European Young Masters, many people asked how an American from Wisconsin came to live and work in Switzerland…and the answer starts with Rutgers University.
"While in class, I thought, how will knowing the Latin names for trees or weeds help me ever? But, when I started working at Golf du Domaine Imperial, Lolium and Fusarium had new importance in my everyday conversations with co-workers and distributors. The industry-specific Latin I already knew made the transition from working in English to French that much easier, and my colleagues immediately respected my knowledge of the job.
"Truly, I cannot forget all that I learned at Rutgers and am fortunate to have studied there."
Joey has since relocated back to the United States and currently works for Staples Golf Design, an international golf course architecture firm based in Scottsdale, AZ.