Main Content
Apply Now for Fall 2023 or Winter 2024!
We are currently reviewing applications for the Fall 2023 and Winter 2024 sessions of the Two-Year Certificate Program. Apply online today before classes fill up!
---
Program Overview
Today's most successful golf turf managers are professionals who have scientific knowledge of plants and their cultivation, who know how to maintain an aesthetically pleasing and environmentally sound course, and who possess strong interpersonal skills. The unique educational experience provided in our Two-Year Certificate Program will prepare you for these challenges and more!
Two-Year Certificate Program
Advance your turf career with in-depth training and real-world experience!
Attend two 10-week sessions on the Rutgers campus in New Brunswick, NJ during Fall 2023/24 or Winter 2024/25
Includes 200-hour paid internship completed between the 10-week sessions, field trips, and hands-on training
Prerequisite: High school diploma/GED and at least one season of work experience on golf course, sports field, or other turf facility
$5,395 tuition fee for each 10-week session, plus application fee, books, and housing/travel expenses
Payment plans, financial aid, and scholarships available
Ideal for individuals who have some golf course or related turf experience, want to advance their careers and boost their salaries, and have the time and commitment for in-depth training
---
Dig into Two-Year Turf
Fall '23: Oct. 4 – Dec. 15, 2023
Fall '24: Oct. – Dec. (dates TBD)
Winter '24: Jan. 3 – Mar. 15, 2024
Winter '25: Jan. – Mar. (dates TBD)
Location: New Brunswick, NJ
Tuition: $5,395 for each ten week session (Learn more about attendance costs and financial aid.)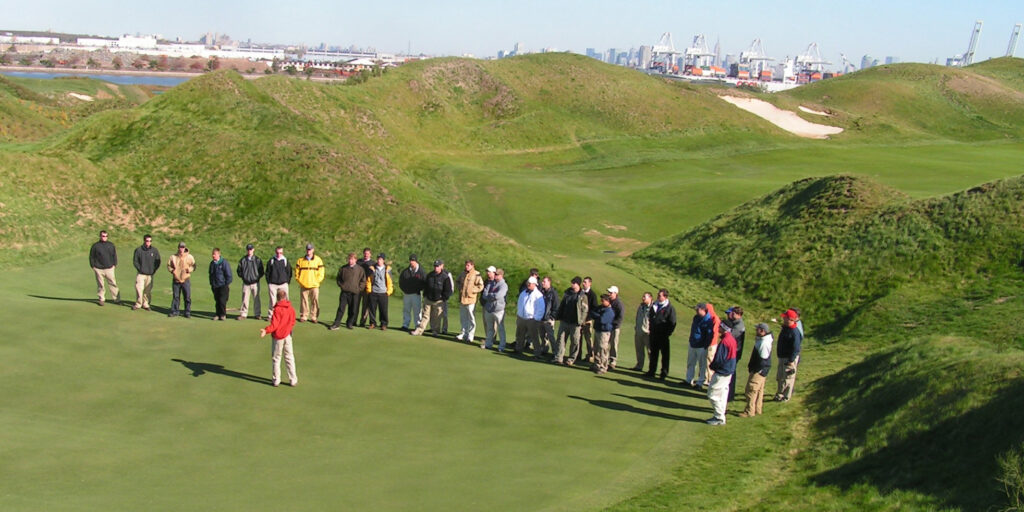 What You'll Learn in Two-Year Turf
Developed to help you more effectively manage the challenges faced on your golf course, our curriculum covers the essentials of turf and soil science, plant materials, irrigation technology, golf course construction, and leadership skills for successful superintendents.
Hands-on training, field trips, and a 200-hour internship are included so that you can apply what you've learned in the classroom to the real world.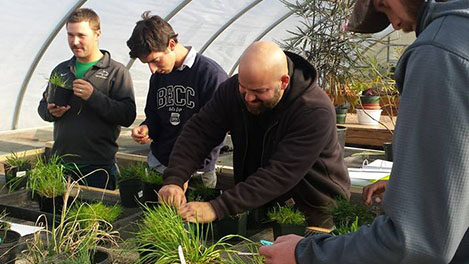 Two-Year Turf Program Format
Who Should Attend Two-Year Turf?
Applicants must have at least one season of work experience on a golf course or other sports turf field in order to be considered for acceptance for the Two-Year Program. In addition, a high school diploma or GED is required.
This certificate is recommended for individuals seeking in-depth training to advance their turf management careers, including:
Golf Course Superintendents
Assistant Golf Course Superintendents
Greenskeepers
Sports Turf Managers
Irrigation Technicians
Spray Technicians
Landscape Professionals
Grounds Managers and Crew Members
Park Managers
We invite those with less than one season of experience to register for and attend our online Three-Week Turf Course, which has no prerequisites.
The Rutgers Advantage: Learn from the Best
Rutgers Professional Golf Turf Management School students receive personalized attention from many of the turf industry's most respected instructors. Our instructional team includes superintendents, plant diagnostic specialists, irrigation professionals, and turf consultants, as well as world-renowned Rutgers faculty from the Center for Turfgrass Science.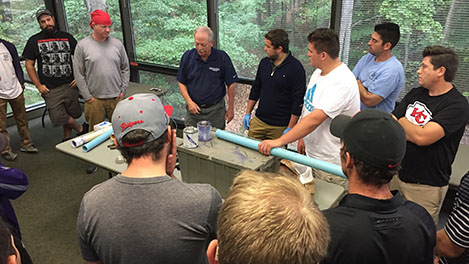 You must apply and be accepted in order to attend this program.
The first step is to complete the online application form. Applicants must also submit a $50 application fee, letter of intent, two letters of recommendation, a current resume, and school transcripts. Visit the application page to learn more and get started today!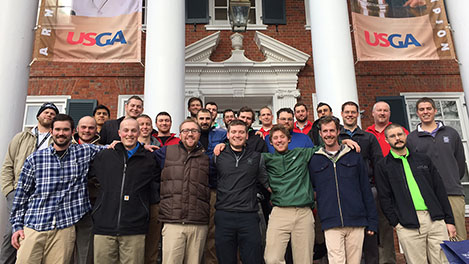 Financial Concerns?
Student loans, such as Sallie Mae, can cover the cost of tuition and housing expenses. For students who excel during their first year in the classroom, Rutgers offers one of the richest pools of turf management scholarship opportunities in the country. Another increasingly popular solution to financial concerns is tuition assistance service agreements. Talk to your supervisor about your employer investing in your education. Learn more about the costs of attending our Two-Year Turf program and options for funding your educational experience at Rutgers.
"Our Assistant Superintendent, Jory Horsley, and I were both fortunate enough to have our club pay a significant portion of our expenses at Rutgers.
"This relatively small investment in our education has had a huge return on investment to the club as a result of our increased knowledge, and more importantly, the network that we were able to build while in New Jersey."
---
Time Restraints?
Even if you have a full-time job, children, and other commitments, carving out time to invest in your education is the best way to achieve your long-term career goals. The schedule for the Rutgers Two-Year Program is designed to minimize your time away from home and work, while maximizing your career ascension. It is a commitment and it may be challenging at times, but it will be worth it!
"My frustration with [other] programs is they're four-year, very expensive programs, with very limited time to actually apply the skills that you learn. The advantage to the Two-Year Program is that you're getting the same education for less money and you get more time to really implement the skills you've learned here instead of just reading about them."
---
Returning to the Classroom?
Even if you performed poorly in school when you were younger, you can excel at Rutgers! The curriculum is focused exclusively on topics that will help you grow your turfgrass management career, which makes to easy to be engaged and enthusiastic about learning. Plus, whether it means answering questions in class, spending extra time with you after school hours, or going over math calculations online, our team of instructors is dedicated to helping each student fully understand the material.
"Going into [the Rutgers program], I was so nervous. I didn't know what I was in for, especially knowing that I was the only girl in the class. But I have learned so much. I've gained a lot that will make me a better leader. And we've all formed really good bonds. Going forward, we're all going to keep in touch, use each other as references, and keep the friendships going.
"I feel so much more confident in what I'm doing right now. Knowing that I've gotten through this, that I've done it... is really cool."
Yesterday is over. Tomorrow is too late. Now is exactly the right moment to start. Apply today!
Unable to commit to the Two-Year Certificate Program at this time? Consider the Rutgers Three-Week Turf Course instead.
---
Why Rutgers? Allow Our Alumni to Explain…
Bradley Sutherland, 2017 Two-Year Certificate Program Graduate
Station Creek Golf Club

,

,

"Rutgers gave me the knowledge and skills to continue advancing in my career. I had been an irrigation tech, and after just one year of school I was promoted to assistant superintendent.

"The timing of Rutgers' 2-Year Certificate Program - ten weeks of classes during the winter so I could still work a full golf season in between – was what made getting an education a possibility for me."
Eric Schmitt, 2010 Two-Year Certificate Program Graduate
Bass Lake Golf Course

,

,

"I feel like I am a living embodiment of another Rutgers Golf Turf Management School success story. I am now a Superintendent at Bass Lake Golf Course in Deerbrook, Wisconsin!

"It took me a little bit, but I was as 'green' as one can be entering the program. The professionalism and knowledge I learned at Rutgers have not been forgotten and have been utilized over the past 10 years to get me where I am today.

"I am proud to say that I have reached my career goal!"
Kevin Lynch, 2018 Two-Year Certificate Program Graduate
Seneca Falls Country Club

,

,

"Going to the Rutgers Professional Golf Turf Management School was one of the best decisions I ever made. The knowledge and connections that I have gained are tremendous. Rutgers honed my skills and taught me the reasons behind the cultural practices we do and the chemicals we apply.

"After the first session, I was promoted to Assistant Superintendent at my previous golf course. As soon as I graduated, I landed a head superintendent position! I would recommend this program to anyone who loves turf management because you won't find a better group of teachers anywhere in the world."
Matthew Siegrist, 2017 Two-Year Certificate Program Graduate
Knoll Country Club East

,

,

"It is never too late to go back to school. You learn so much by doing, but some things require formal education. Learning budgeting techniques and disease diagnosis from the experts has been a huge help.

"Even with 25+ years of experience, Rutgers gave me the edge I needed to become a superintendent. My boss knew that Rutgers is a top-notch turfgrass school and that was a big reason he was able to convince the town council to promote me to superintendent."