Main Content
Rutgers Turf: Jersey Roots, Global Reach
Since the 1980s, Rutgers has been recognized a world-leader in turf research and our internationally-recognized certificate programs are known and respected worldwide. As the map below shows, we are proud to have alumni working at golf courses in over 20 countries and strive to continue to expand our global reach. We welcome international students to attend both our Two-Year Certificate Program and Three-Week Turf Course!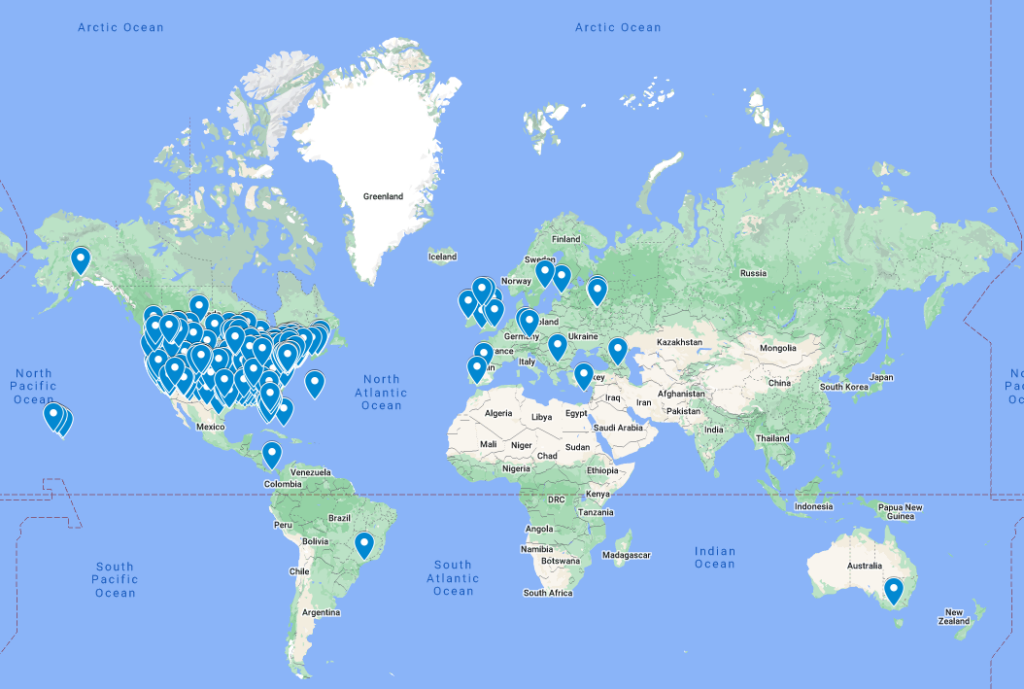 "Being the superintendent in my home country at Los Sueños, the best golf course in Costa Rica, is my dream job. It is only possible because of the Rutgers Golf Turf Management School.
"I am very proud of my 25 years in the industry, but I am even more proud to say that I am an alumnus of Rutgers University."
---
Two-Year Turf International Students
For international students, our Two-Year Turf Certificate Program offers an exciting opportunity to study in the United States, participate in hands-on learning activities, and engage in in-person networking with turfgrass professionals from a wide range of backgrounds.
There are special considerations for international students related to obtaining a visa. More information is below. If you have any questions, please call or email Program Coordinator Suzanne Hills at 848-932-7234 or 2yearturf@njaes.rutgers.edu.
If you will be entering the United States from another country to attend the Two-Year Turf Certificate Program offered by the Rutgers Professional Golf Turf Management School, please be sure to contact your national embassy about visa requirements in advance. Every country is different, visa regulations often change and authorization may take time to secure. It is best for students to communicate with border control officials directly well in advance of planned traveling.
Rutgers Global provides immigration services and advising to help international students provide legal status throughout your time at Rutgers. Some important things you should know:
The curriculum is designed to have you attend classes at Rutgers during one 10-week session (known as "Turf I") in the fall or winter. This is followed by an internship which is most often completed in your home country (or outside of the U.S.). After that, you return to Rutgers for your second 10-week session ("Turf II") the following fall or winter.
You may enter the U.S. up to 30 days earlier than the start date of your program (which will be in October for the fall session or in January for the winter session). The program continues five days a week until the end of ten weeks (which will be either December for fall or March for winter). International students are only issued an I-20 (F-1 visa document) for the specific dates of the program and must depart the U.S. within 60 days after their program ends. If you are able to secure an internship before your program's end date and begin working soon thereafter, Rutgers Global MAY be able to extend your I-20 for a maximum of 5 weeks.
There are also additional fees for International students: approximately $750 payable to Rutgers University (for SEVIS administration and health insurance fee) before you can apply for the F-1 visa and $510 to the U.S. Department of State and Immigration and Customs Enforcement (for SEVIS fee and visa fee) after you fill out form I-20 (required to apply for the F-1 visa).
For assistance, contact Carissa McCarthy at carissam@global.rutgers.edu or visit Tailored and Certificate Programs | Rutgers Global for more information.
As described above, there are additional fees incurred by international students in order to obtain a visa. Please be sure to account for these fees when budgeting for your Rutgers turfgrass education.
Approximately $750 payable to Rutgers University (for SEVIS administration and health insurance fee) before students can apply for the F-1 visa
$510 to the U.S. Department of State and Immigration and Customs Enforcement (for SEVIS fee and visa fee) after obtaining the form I-20 (required to apply for the F-1 visa)
These fees are in addition to your tuition fees, books, and travel/housing expenses.
Visit our Travel and Housing page for information and resources to help you plan your trip to New Jersey and secure living accommodations during your stay. Housing is not included in your tuition and you are responsible for making your own housing arrangements, but we are here to help. Please don't hesitate to reach out if you need assistance!
---
Three-Week Turf International Students
Our 100% online Three-Week Turf Course is a great option for international students looking to earn a Rutgers credential without incurring the costs associated with travel, housing, and obtaining a visa.
We have designed the Three-Week Turf course to have a flexible schedule to accommodate students in a variety of time zones. Generally, the class runs from 11am to 5pm EST. The program includes prerecorded lectures that you can view at your own pace and live classes that encourage students to engage with instructors and each other. The live classes will be recorded and available for the students who are unable to attend.
We have had students from India, Saudi Arabia, Pakistan, the Netherlands, Barbados, Nigeria, Turkey, Austria, the United Kingdom, and Canada attend the Three-Week Turf program, and we encourage students from around the world to register for our next session!
"A turf management certificate from the US is very beneficial to me for my future. The Rutgers name means something everywhere around the world."
---
Meet Two of Our International Alumni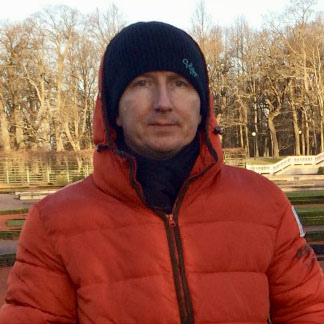 Alumni Profile: Andry Martin
2000 Two-Year Certificate Program Graduate
Originally from the Northern European country of Estonia, Andry worked as the Superintendent at Otepää Golf Center. He was thrilled to study the science behind turfgrass management here in the United States. Over 20 years later, Andry is the Assistant Superintendent at Trump Golf Links at Ferry Point in Bronx, NY, and he still appreciates the benefits his Rutgers education has afforded him.
"Attending The Rutgers Professional Golf Turf Management School meant a lot for my career and also for my family. When I completed my training and earned my Two-Year Certificate, I knew that it was the best thing I had done for my life." – Andry Martin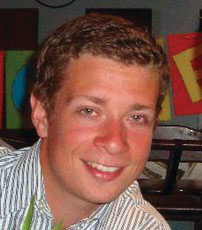 Alumni Profile: Peter Thompson
2015 Two-Year Certificate Program Graduate
Born and raised in England, Peter Thompson has worked on golf courses since 2007. He climbed the career ladder and was working as the Assistant Superintendent of Sunningdale Golf Club, outside of London, before attending Rutgers. After completing his education at Rutgers, Peter went on to secure a position as the Assistant Superintendent of Golf de Morfontaine, the number one rated golf course in France.
"As a result of the Rutgers Professional Golf Turf Management School, I was able to secure this job in France. Education is vitally important and I would encourage anyone who is serious about pursuing a career in this industry to take part in the Rutgers Turf Program."- Peter Thompson