Main Content

Turf Internship Overview
After their first 10-week session, students enrolled in the Two-Year Turf Certificate Program are required to complete an internship consisting of a minimum of 200 hours of paid field training. You may work on the golf course or sports field of your choice, and the purpose of the internship is to demonstrate your understanding of the materials presented in class.
Students who are currently employed at a golf course or sports field facility may complete their internships with that employer. For those seeking internship experience at a new locale, Rutgers frequently receives requests for interns from golf courses and athletic fields around the country and shares those opportunities with students. Many times these requests come from alumni of our program who want to give back to the industry and mentor the next generation of turf management professionals! In addition to internship opportunities, we regularly advertise opportunities for our students to volunteer at PGA Tournament events, which is another great way to improve your resume and make connections in the industry.
Applying for internship opportunities and securing an internship placement is the responsibility of the student, but we are here to provide support as needed to ensure your internship is a valuable experience that helps you develop your skills and advance your career.
---
Turf Internship Requirements, Responsibilities, and Benefits
Internship Requirements
The requirements for internship positions vary by golf course. Some require internship applicants to have several years of experience, while others are willing to take on students who are 'green' but eager to learn. All internship sites are seeking candidates who are highly motivated and ready to work hard, maintain a positive and professional attitude, help solve problems, ask questions when needed, and be a team player.
Your Responsibilities as an Intern
Your specific responsibilities as an intern will be dictated by the golf course where you complete your field experience, but it is expected that you will participate in a diverse range of activities involving all aspects of daily golf course maintenance. Your tasks may include:
Mowing greens, collars, fairways, and tees at specified heights
Participating in cultural practices such aeration, verticutting, and topdressing
Conducting irrigation audits and performing irrigation repairs
Hand-watering greens
Performing fertilizer and chemical applications
Planning and implementation of integrated pest management (IPM) strategies
Performing landscaping tasks, such as pruning
Performing specialized functions, such as rolling, blowing, tree maintenance, and post setting
Leading maintenance crews through daily tasks and projects
Assisting in the planning and completion of major initiatives and course improvement projects
Sodding and seeding
Equipment maintenance
Bunker repair and maintenance
Aquatic maintenance of lakes and ponds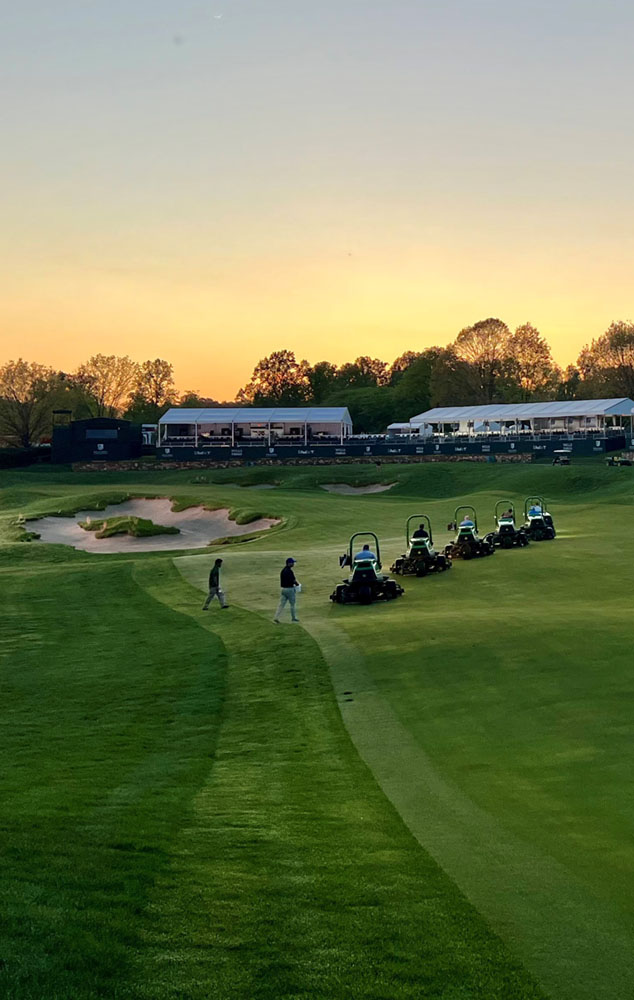 Internship Benefits
The most important benefits of your golf course internship will be the hands-on experience you gain and the turf industry connections you make. Some golf courses offer students the opportunity to step into a full-time role upon the successful completion of their internship or upon their graduation from the Rutgers Two-Year Turf program.
All internships are to be paid, with the rate of payment set by the golf course. In addition to financial compensation, some internship sites offer on-site housing, meals, uniforms, tournament volunteering opportunities, golfing privileges, pro shop discounts, and other perks to their interns.
For some students, this internship provides them with the opportunity to travel to and live in places they have always dreamed of going and experience a new area of the country or the world.
---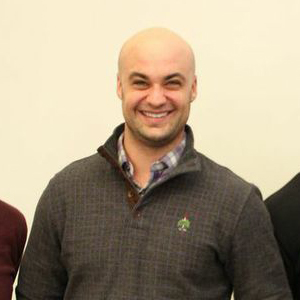 Alumni Profile: Cory O'Neil
2015 Two-Year Certificate Program Graduate
Cory decided to attend Rutgers because of its reputation and effective timing between golf seasons. The Rutgers Professional Golf Turf Management School helped Cory secure an internship at Merion Golf Club between his 10-week class sessions, which opened the door for him to work at St. Andrews Links in Scotland and participate in the preparations for the 144th Open Championship.
Now an Assistant Superintendent at St. George's Golf and Country Club in Ontario, Canada, Cory credits Rutgers with helping to advance his career.
"The material of the Two-Year Certificate Program at Rutgers is delivered by instructors who are leaders on the world stage of this industry. The networking opportunities, knowledge obtained, and resources made available for the rest of my career are invaluable, which is why Rutgers is the premier choice for turf school." – Cory O'Neil
---
A Day in the Life of a Golf Turf Intern
Wondering what your day as a golf course intern might look like? Take a look at the sample schedule below* to get an idea of the types of tasks you might be working on. Keep in mind that your specific responsibilities and tasks will be dependent upon the location where you choose to intern; this is just an example.
5:50 am
Arrive at the maintenance building
5:55 am
Clock-in
6:00 am
Morning Meeting – Receive daily job assignments and get updates/information
6:00 am-10:00 am
Prepare the golf course for play
Examples of Morning Jobs:
Mowing of playing surfaces (Greens, Collars, Tees, Fairways)
Rake bunkers
Trim bunker edges
Spray applications
Practice tee clean-up and repair
10:00 am-1:45 pm
Secondary Jobs
Hand watering
Weeding
Trim work
Divot repair
1:45 pm-2:00 pm
Clean equipment and clock-out
*This sample schedule comes from the Turf Management Summer Internship Program at Laurel Creek Country Club in Mt. Laurel, NJ.
The video below from Medinah Country Club in Medinah, IL highlights the work of their turf maintenance operation. Rutgers has had several Two-Year Turf students complete their internships at this site!
---
Sports Field Internships Offer Unique Opportunities for Turf Students

Students who are pursuing a career in sports turf management can choose to complete their internship at a professional stadium or recreational sports complex, rather than a golf course. College and university athletic fields also make great internship sites. Students who complete sports turf internships often have the opportunity to take on a variety of unique responsibilities that will help prepare them to step into leadership roles in the future. This can include:
Fertilizing, spraying, aerating, topdressing, and other turf practices
Field preparation for games and practice
Post-game field repair
Mound and home plate clay maintenance
Infield skin maintenance
Field layout and repainting
Setup and breakdown of practice equipment
Tarp pulls
Bullpen repair
Working at special events, games, and tournaments
---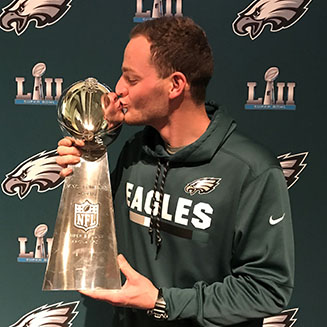 Alumni Profile: Conor Geisel
2018 Two-Year Certificate Program Graduate
Conor completed his internship working on the greens team at Lincoln Financial Field, home of the Philadelphia Eagles. As an intern, Conor helped care for the team's practice facility, as well as the stadium field itself. It was one of his Rutgers instructors who put Conor in touch with the Eagles' director of grounds, making a connection that led to Conor securing the coveted internship with the Eagles' franchise.
One of the perks of working for the Philadelphia Eagles grounds crew was being on the field during each game. The team even sent him to the 2018 Super Bowl! He watched the Eagles defeat the New England Patriots in person at the U.S. Bank Stadium in Minneapolis, MN. While there, he took advantage of the opportunity to hold (and kiss!) the Vince Lombardi Trophy.
Before completing the Two-Year Turf program, Conor accepted an Assistant Superintendent job at Medford Village Country Club in Medford, NJ.
"I haven't even graduated yet and it [Rutgers Professional Golf Turf Management School] has already paid off," Conor said. "With this Assistant Superintendent job, I am exactly where I wanted to be on my career path."
---
Turf Internship Academic Requirements
In addition to completing at least 200 hours of field experience, there are several academic requirements related to your internship that must be completed. Details about these assignments are below.
Internship Experience Journal
Throughout your turf internship, you are required to keep a daily journal of your tasks. Your journal should include a record of key projects your were involved with during your summer internship and provide approximate dates or time frames. You are encouraged to use this journal to provide as much information as you can about your internship experience, including skills acquired, lessons learned, and any other relevant details that influenced your internship experience. Your journal will be shared with the Turf Program Coordinator upon your return to Rutgers for your second 10-week session.
After you complete your internship, your supervisor must fill out a Work Experience Form evaluating your performance. This form will be submitted to Rutgers when you return for your second 10-week session. It allows our staff, the student, and the supervisor an opportunity to evaluate the student's progress and determine if any areas need improvement or review.
Upon returning to Rutgers for your second 10-week session, you will be required to prepare and deliver an oral presentation on a problem or topic that you encountered during your internship. Examples of topics for this presentation include irrigation practices, cultural practices, aerification, construction and renovation projects, tree removal, storm recovery, or other special initiatives undertaken at your internship site.
You must submit a written report that includes a description of the golf course or sports turf facility where you worked, a discussion of golf course and turf maintenance practices you participated in, and a summary of how you helped to improve the facility during the course of your internship.