Main Content
Written by Margaret McHugh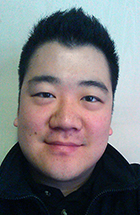 As a Korean immigrant, Danny Yook grew up knowing his parents held high career expectations for him.
Yook took the medical school entrance exam after graduating from The College of New Jersey, but a poor performance derailed that plan.
A friend's proposal to start a bubble tea and coffee business didn't work out, but it led Yook to take a job at Starbucks. It was there, while working his way up from barista to store manager, that he first learned about food safety.
After the birth of his first child, Yook realized the job's long, unpredictable hours weren't good for family life. A friend who worked as a Registered Environmental Health Specialist (REHS) suggested a career in health inspection, along with a way to get there: the Environment and Public Health (EPH) course run by Rutgers University's Office of Continuing Professional Education.
Yook enrolled in the summer of 2011. "My biggest fear was going back to school, but I found myself more motivated because I was putting myself through it with a purpose," the 30-year-old Cliffside Park resident said.
The course, which prepares students to take the state's REHS licensing exam, consists of eight weeks of classroom instruction taught by 30-plus experts practicing in their field, followed by a five-week public health department internship that gives students hands-on experience.
Yook expected to find work in the public sector after completing EPH, but that changed when the EPH Program Coordinator emailed a job posting for the New York City-based Fairway Market. In need of an in-house inspector, Fairway Chief Compliance Officer Peter Rojek tapped the program, knowing he would find a highly qualified professional.
The Rutgers EPH program "has an excellent track record for preparing individuals with the fundamental knowledge that we are looking for in the business community," Rojek said. He should know; he went through the program in the 1970s.
There are lucrative career opportunities in the private sector for EPH graduates who have the regulatory background plus business experience, Rojek said. "The industry is looking for creative, resourceful problem solvers who understand the pressures businesses are under."
Yook began working in January as a Fairway compliance manager. Each day, Yook goes to one or more of the 11 Fairway locations in the tri-state area to inspect stores and help the management correct any violations. The rigorous inspections touch on all aspects of regulation, from food safety and facilities issues to employee training and pricing, Yook said.
"It really offers a broad perspective of the industry," the married father of two said. While he didn't wind up a doctor or lawyer, Yook – and his parents – are proud of the career he's building. "I found my niche."
Learn more about Rutgers' Environment and Public Health (EPH) Program!