Main Content
Written by Casey Sky Noon; originally published June 2019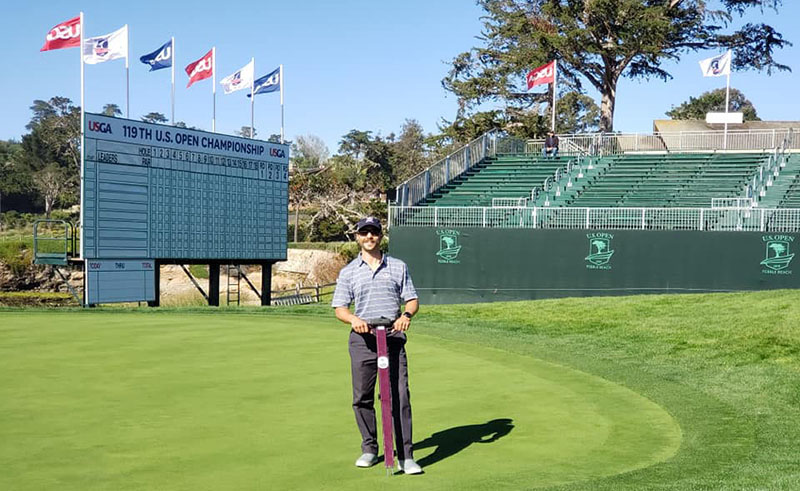 The warm glow of the morning sun rising over the iconic cliffs at Pebble Beach is a colorful image worthy of art. "People buy homes for 40 million dollars to see that view and I get paid to be here," reflects Michael Knoll, who graduated from the Rutgers Professional Golf Turf Management School's Two-Year Certificate Program in 2016 and is now building his career at Golf Digest's Number 1 public course.
With the likes of Tiger Woods, Brooks Koepka, and Dustin Johnson taking swings on the greens he maintains, working the 119th US Open felt surreal. "I regularly cry just for the sheer fact that I'm getting to live the dream by doing this," said Knoll. "Everything is just pinch me, am I really living this right now?"
One of five full time grounds crew members at Pebble Beach to hail from Rutgers University, Knoll was responsible for managing the 100+ volunteers that were brought on to help keep the course at peak playability during the famed US Open championship. Chosen from a large pool of applicants, the exclusive team of volunteers included over a half dozen additional Scarlet Knights, who completed turfgrass education here at Rutgers.
Volunteers typically work from 4:30am to 9:00pm. While that is a long day, the amount of work that went into organizing such a large influx of staff is just as intensive. Knoll was involved in everything from conducting required USGA background checks, to coordinating housing arrangements, and organizing uniform packages. "I also worked on the volunteer letters that explain what's going on, what we need from them, and where they are going," Knoll explained.
The golf course is limited to 38,000 spectators per day and organizers report that approximately 250,000 fans passed through the property throughout the week. The amount of infrastructure brought in for an event this size is daunting. In fact, preparation started five years ago with big-picture items and capital improvements, such as renovating the green complexes. The attention given to the smallest components is equally as impressive.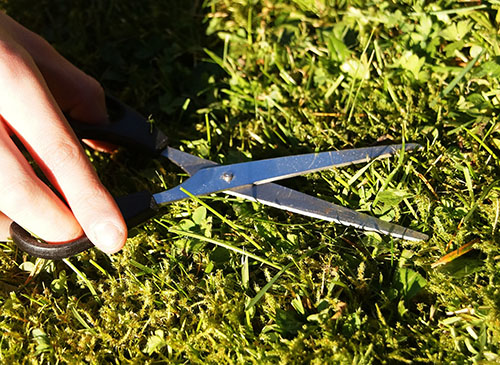 "No detail too small and no detail spared," Knoll said about Pebble Beach's approach to preparing for the US Open. For example, hand-cutting grass with scissors is an extreme practice only done during such high-profile events. He explained that the tall fescue (a species of turf) around the bunkers was so thick that organizers worried about golfers considering it an unplayable line, taking a penalty stroke, and dropping into the bunker.
"We literally got down on our hands and knees and used scissors to thin out the vegetation at the bottom," Knoll said. "We cut the leaf blades, not the seed heads, one by one, by hand!"
Using a drill with a wire brush to clean the fairway sprinkler heads was another meticulous task undertaken by the grounds crew to ensure that the course was in prime condition.
After almost a decade in the corporate world, Knoll decided to change careers. He attended Rutgers to learn about and show his dedication to the greens industry. The amount he has learned and the trust he earned as a turf manager in just three years is awe-inspiring.
During his first month as a greenskeeper on another course, his supervisor asked him to "puddle it up a little bit" so that the whole green got enough water. He cringes when he thinks about how his supervisor ran out of the maintenance shed screaming. "I flooded the green," Knoll admitted. "I had no idea. I just listened to his directions. And now I am actually in charge of the greens on the front nine for the US Open."
When he first left his nine-to-five desk job for turf management, Knoll couldn't even imagine the possibility of one day working on a course played by the world's best golfers. "I didn't even dare to dream it when I first got into turf," he said. Nonetheless, Rutgers Turf Alum Michael Knoll is now a living, breathing, sunrise-appreciating success story.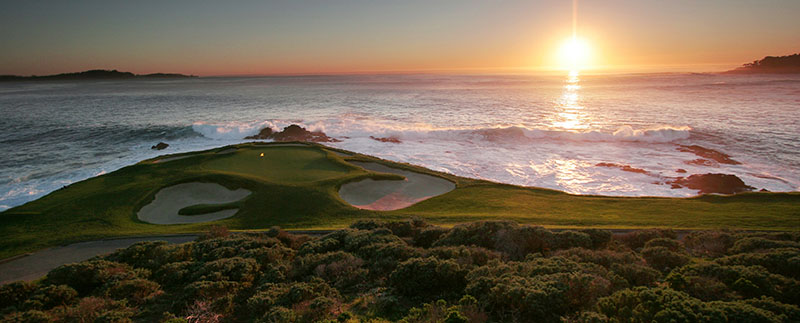 Learn more about the Rutgers Two-Year Turf Certificate!