Main Content
Written by Margaret McHugh; originally published May 8, 2012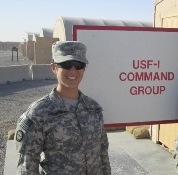 In her second deployment to Iraq in 2011, Lyndhurst native Aysu Cesmebasi ran a dining hall that fed 12,000 Army and Air Force personnel twice a day at Joint Base Balad, the largest in that war-torn country.
The local contractor handling meals at the base had been let go, so Cesmebasi, a food advisor, oversaw a staff of 75 soldiers and airmen, ensuring they adhered to sanitary regulations.
"My biggest concern was safety. I could not have a food-borne illness outbreak since it could impair our mission at a critical time," recalled Cesmebasi, a 2008 graduate of the Environment and Public Health (EPH) course run by the Rutgers Office of Continuing Professional Education.
Since returning home in December 2011, the certified health inspector and Army command food advisor finds herself in demand. At 29, Cesmebasi has received job offers from the civilian and military worlds – including another Army support mission in the Middle East.
"It's amazing. I never envisioned taking this path and having the two careers come together like this," she said.
Growing up, Cesmebasi considered herself "too girly" for the military, but after running into financial problems during her freshman year away at college, she enlisted with the New Jersey Army National Guard. It was August 2001.
Using her tuition benefit, Cesmebasi enrolled at Rutgers University two years later to become a cancer researcher. But a public health introductory course changed her plans. After interviewing a municipal health officer and attending a board of health meeting as part of the class, she realized this could be her calling.
During her junior year, Cesmebasi was called up to duty and served 16 months in Iraq.
"I was nervous. The worst part is the anticipation of what to expect when you get over there," she said. Cesmebasi went into villages with her platoon and, with the help of an interpreter, spoke to women and children about what assistance the U.S. Army could provide them.
Back home, she spent one weekend a month in training at Teaneck Armory where, as her job, she prepared food.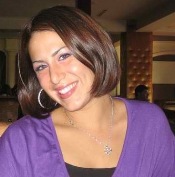 She graduated from Rutgers with a bachelor's degree in biology in May 2008 and used the Montgomery GI Bill® to put herself through the EPH program. The summer course includes eight weeks of instruction taught by 30-plus experts, and a five-week internship that gives students hands-on experience at a public health department. Students are prepared to take the state's licensing exam to become Registered Environmental Health Specialist.
The program is just one option to help U.S. veterans take the next step of their career; several courses offered by Rutgers OCPE are approved for training educational benefits through the GI Bill®.
"Whether a student is transitioning to civilian life or planning to extend their military career in a new direction, we are proud to provide U.S. veterans with the education they need to advance themselves professionally," said Edward V. Lipman, Jr., former director of the OCPE.
The Mid-Bergen Regional Health Commission offered Cesmebasi a job before she even had the results of her licensing exam; a year later, she left to take a position with the Bloomfield Health Department.
In her military life, she became a warrant officer specializing in food management. Cesmebasi advises the command on what meals are best suited under given circumstances and trains food handlers about safety and sanitation issues. She recently resigned from the Bloomfield Health Department to begin a new assignment for the army in Kuwait.
"Because of EPH, I could teach with a lot more confidence," she said. "I would highly recommend it."
GI Bill® is a registered trademark of the U.S. Department of Veterans Affairs (VA). More information about education benefits offered by VA is available at the official U.S. government website at http://www.benefits.va.gov/gibill.
Learn more about Rutgers' Environment and Public Health Program!