Main Content
About the SRMP Certification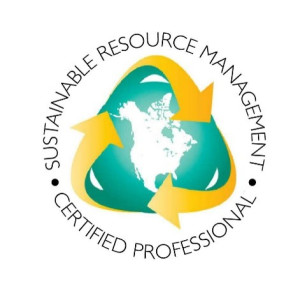 Certified Recycling Professionals (CRPs) now have the option of earning a national certification, Sustainable Resource Management Professional (SRMP).
OCPE worked with the Association of NJ Recyclers (ANJR) on the application and documentation required by the SRMP certification approval process. Coordinated by the National Recycling Coalition (and one of its predecessors, the Recycling Organizations of North America), information on course content, instructor qualifications, proficiency testing and/or projects, and recertification processes and criteria were submitted for review. OCPE and ANJR were notified in late 2013 that the application had been accepted and that we could offer the SRMP designation to our CRPs.
Already a CRP?
If you completed the CRP program prior to 2014-15 (either through the full or "alternate" series) and are currently certified, you can earn the SRMP certification by completing "Recycling Health and Safety" and "Understanding Sustainability Management." Both programs offer CRP and Certified Public Works Manager (CPWM) recertification credits as well. Please note that earning this new certification is completely voluntary – you do not need to take the additional training to become an SRMP in order to retain your CRP. Also, aside from the cost of attending the two courses, there are no other fees to become an SRMP and the recertification process will remain unchanged.
In CRP Classes Now?
The two SRMP courses became part of the CRP program in 2013-14. If you enrolled in the 2014-15 series (or future CRP series), you will receive the SRMP designation automatically when you complete the CRP program requirements.
Need More Information?
Questions and inquiries about this information should be directed to Carol Broccoli at 848-932-7207 or carolbr@njaes.rutgers.edu.