Main Content

Jump to: Register | Course Details | Overview | Instructor | Requirements | Contact Us | Related Courses | Join Email List
---
Important Notice About UST Training from Rutgers
We offer two different underground storage tank classes. Please ensure that you are registering for the correct course!
This class, UST Training for Class A&B Operators, is only for those owners/operators of regulated tanks who need to be certified as an A/B operator for the first time.
We also offer Regulatory Training in Underground Storage Tanks, which is a recertification class meant to be taken once every three years to maintain existing UST licenses (installation, closure, testing, cathodic protection). Visit the Regulatory Training in Underground Storage Tanks page if you need to register for that class instead.
---
Register Now
Pay with Credit Card:
Pay with Check, PO, or Money Order:
---
Course Details
Course Name: NJDEP UST Training for Class A & B Operators
Course Code: EW0208WA24
Date & Time: This class is available on demand, 24/7. You can register and complete the course at any time! It will take approximately 8 hours to complete.
Location: Online
Format: Self-paced
Registration Fee: $295 per person
Paying with a check, money order, or purchase order?
Payments should be made out to: Rutgers, The State University of New Jersey
Checks and money orders should be mailed to: Office of Continuing Professional Education, Attn: Registration Dept., 102 Ryders Ln, New Brunswick, NJ 08901-8519
Purchase Orders can be mailed to the address above or electronically sent to registration@njaes.rutgers.edu.
---
Course Overview
If you own or operate regulated USTs, you need this course!
This Underground Storage Tank (UST) Operator Training Course is part of a required training program for the operation of regulated USTs. An example of a regulated facility is a retail fuel facility.
The U.S. EPA has established minimum training requirements for designated Class A, Class B, and Class C operators to ensure that those who own and operate regulated underground storage tanks understand how to operate and maintain their UST systems properly. The federal regulations dictate that all regulated UST facilities must have a trained Class A, B, and C operator.
UST Operator Classes
For the purposes of implementing the UST operator training requirements, three classes of operators have been identified:
The Class A operator is typically the manager in charge of resources and personnel and is responsible for operating and maintaining the regulated UST system.
The Class B operator is designated by the owner/operator to have day-to-day responsibility for the regulated UST system.
The Class C operator is an individual designated by the owner/operator to be responsible for initially responding to emergencies and typically controls the dispensing or sale of regulated substances.
Each regulated UST facility must have a Class A, Class B, and Class C operator designated. All individuals designated as Class A, B, or C operators must, at a minimum, be trained according to the corresponding criteria.
Featured Topics
The NJDEP combined the subjects for Class A and Class B in this class that covers the federally required training curriculum for A/B operators. Topics include:
Regulatory Requirements Applicable to UST Systems
Financial Responsibility
Notification and Storage Tank Registration
Environmental and Regulatory Consequences of Releases
Spill and Overfill Prevention
Release Detection and Related Reporting
Corrosion Protection and Related Testing
Product and Equipment Compatibility
Training Requirements for Class C operators (A/B operators may be responsible for training)
UST Class A/B Operator Exam
Completion of the A/B operator training program requires passing the Class A/B operator examination given by the International Code Council (ICC). To register for the exam, visit https://www.iccsafe.org/certification-exam-catalog. Use the exam code "NJ" to search for the exam and register. If you have questions about registering for the exam, call the ICC at 888-422-7233, ext. 5524.
The cost of this course includes a binder of course materials and a completion certificate, both of which you will need to have with you when you go to take the exam at an ICC testing facility. After registering and logging into the online course system, you will be prompted to provide a mailing address where we will send your binder and certificate via UPS overnight (next business day) service.
You are welcome to begin the course right away, without your binder, or you can wait until it arrives. We recommend waiting so that you can take any and all notes directly in the pages of the binder, allowing you to bring them with you to the exam. Notes written on loose papers will not be allowed into the testing facility. Please note: you do need to log-in to the Canvas online learning system and read through the welcome page to get to the binder/certificate request form. Submit this form to alert us to send out your course materials.
For more information about New Jersey's A/B Operator training program, please see the NJDEP website at https://www.state.nj.us/dep/enforcement/ust.html.
Who Should Attend?
Anyone who owns or operates a regulated UST facility or wishes to be employed as a designated Class A or Class B operator will need to take this course.
PLEASE NOTE: No Re-Certification Necessary for A/B Operators
A/B Operator Certifications do NOT expire in New Jersey at this time. Once you have taken this class and passed the International Code Council (ICC) exam, you are certified indefinitely and do NOT need to attend any further training. The only time re-training or retesting may be required in New Jersey is if the DEP finds significant violations during facility inspections.
---
Course Creators
NJDEP staff from the Bureau of UST Compliance & Enforcement developed the content for this program.
---
Course Requirements and Policies
Technology Requirements
This course is offered online within the Canvas learning management system. You can access the course from anywhere with an internet connection.
After you register, you will receive an email from "Rutgers University Canvas" prompting you to click a link to finish setting up your Canvas account. If you do not see this message in your inbox, please check your junk/spam folder.
Email Requirement
A unique email address is required for each registrant to register and access our courses.
If this is your first time registering with us, please provide your own unique email address when registering; do not provide an email address that you share with co-workers.
If you have previously taken classes with us and have used an email address that you share with your co-workers or supervisor, your account must be updated with a unique email address. To do this, please send an email to us at registration@njaes.rutgers.edu stating that your email address needs to be changed and include:

Your full name
The shared email address that needs to be changed
Your unique email address
A phone number where you can be reached if we have any questions
Cancellations and Substitutions
There are no refunds for this program. Substitutions are not permitted.
---
Program Questions? We're Here to Help!
If you have any questions about NJDEP UST Training for Class A & B Operators, please don't hesitate to reach out to us.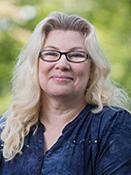 Program Coordinator: Pamela Springard-Mayer
848-932-7463
pspring@rutgers.edu
For registration assistance, please contact our Registration Department at 848-932-9271, option 2 or email registration@njaes.rutgers.edu.
---