Main Content
Written by Michael Schwab; originally published in Fall 2010
Any day in any season, you can find Mark Chisholm engaging in an activity most of us haven't considered since elementary school, but with its harnesses, helmets, soaring heights, and fancy footwork, it's safer, more thrilling, and more challenging than anything you remember from your youth. The names alone of tree climbing competition individual events – aerial rescue, belayed speed climbing, secured footlock – reveal that this pulse-quickening activity is not for the grammar school set, yet Mark's love of trees, climbing, and competing have been a part of his life since childhood.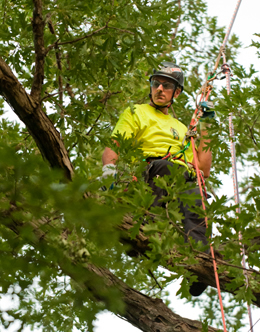 "I'm a third generation arborist," says the 39-year-old. "Most of the people who were major influences in my life were involved in tree care."
A young Mark Chisholm found his tree legs naturally, getting involved early on in his family's business, the Aspen Tree Expert Company, which he runs with his father and older brother, Steve, in Monmouth and Ocean Counties.
Chisholm, who climbed his first large tree at the age of 13, was inspired by his father. "Everyone talked about how my father was the best tree climber they'd ever seen. . . the most professional and well-rounded," he says. His father took him to see his first international tree climbing competition in 1984 in Quebec and he was hooked.
Chisholm spent his first years as a competitor testing himself. "I met some great climbers and started getting a feel for the people there, and I just kept wanting to come back. It became about trying to do well, but also about meeting new friends and revisiting old relationships."
It didn't take long for Chisholm to make his mark in the world of tree climbing competitions, taking home his first state championship just 3 years after he began. Now, 21 years later, his career boasts a staggering record of 18 consecutive state championships. He is the reigning world record holder in the men's secured footlock event and he just secured his third world championship at the International Society of Arboriculture's (ISA) Tree Climbing Competition in Chicago this summer.
Thankfully, the talent and expertise of both Mark and his brother Steve aren't well-guarded secrets; both brothers share their knowledge as instructors for the Rutgers Office of Continuing Professional Education (OCPE). This relationship began when the two were still teenagers and took courses to help their family business expand into landscaping. The boys enrolled in "Plant Identification" and "Landscape Design"– classes that are still taught at Rutgers. The classes exposed the brothers to vital fundamental plant and design skills that they use every day in the field.
It was Steve who first took up the teaching role. In 1997, he began presenting a Plant Health Care course with longtime friend and colleague, Ted Szczawinski. The two continue to teach together in OCPE's Hazardous Tree Identification class, offered every fall and spring.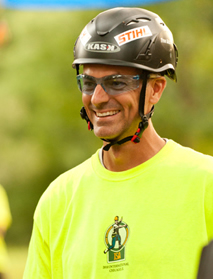 As someone who's very much involved in this practice on the business end, teaching helps Steve keep in tune with the many developments in the field. "It's kind of a two way street — the class helps to sharpen your skills for work, and then work sharpens what you can pass on to others in class, helping raise professionalism within the industry."
Mark joined the Rutgers instructional team in 1999, when OCPE revived a class that had been taught in the 1980's by Mark and Steve's father, Steve Sr. The current two-day course, Large Tree Climbing and Rigging, helps tree professionals reduce risks and improve efficiency when pruning, treating, or removing large trees. "In two days we explore a lot of different techniques: some of the stuff I use to win world championships and all the techniques I learned through my experiences at Aspen," Mark explains.
With the help of Steve, Mark's class receives very high praise by participants. "I learned a lot of useful information in this course," says one-time student Tom Lachowski of Lachowski Lawn and Landscape in Flagtown, NJ. "I am now working more safely and efficiently using Mark and Steve's methods on all of my work with trees."
The Chisholm's will continue teaching this year at Rutgers to prepare yet another group of students for a season of tree care and safe tree climbing procedures. "I like sharing my experiences and how I grew up an arborist," says Mark on the rewards of teaching. "It gives me gratification to take someone who's been doing this for ten to fifteen years and show them my world of tree climbing. A light bulb goes on and all of the sudden they say 'I can't believe how much easier that is!'"
Learn more about Rutgers' Tree Care Courses!