Main Content
Originally published June 24, 2022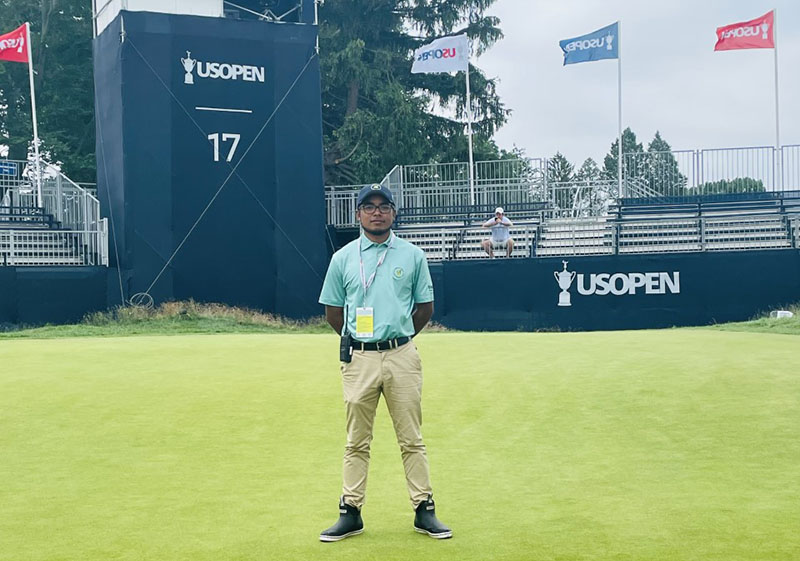 This past weekend the 122nd US Open Championship was hosted by The Country Club in Brookline, MA. Working at this prestigious event was Dhenilson Pizarro Moreno, a recent alumnus of the Rutgers Professional Golf Turf Management School.
Pizarro Moreno, who graduated from the Two-Year Certificate Program in Winter 2022, is now an Assistant in Training at The Country Club, which is both the oldest country club in the United States and one of the largest private clubs in the Northeast. He has been maintaining the turf there for more than two years.
Pizarro Moreno moved to the United States from Peru in 2014. He quickly found a passion for working on golf courses when he started his career at the New Canaan Country Club in 2015. "I enjoyed the work on the golf course," Pizarro Moreno said. "From the beginning, I focused on the details and hard work." During this time, his interest in the Rutgers Professional Golf Turf Management School was piqued. Under his manager's guidance and direction, he began considering the program as a professional growth opportunity.
In 2020, Pizarro Moreno volunteered for a week at the 120th US Open Championship at Winged Foot Golf Club in Mamaroneck, NY. "It was a beautiful experience," he said. Pizarro Moreno's passion for golf course maintenance is driven by the appreciation he receives from golfers when they have a positive experience on his turf. "I love working on the golf course. My main motivation is to listen to the players when they tell [me], 'The course is very beautiful,' [and,] 'Thank you for having the course in good condition.'"
Our congratulations to Dhenilson Pizarro Moreno, The Country Club, and the entire greens crew for executing a successful event!
Learn more about the Rutgers Two-Year Turf Certificate!