Main Content
Originally published August 23, 2022

Julio Diaz, an esteemed alumnus of the 1998 graduating class of the Rutgers Professional Golf Turf Management School, was recently featured in the July 2022 edition of Golf Course Management Magazine (GCM) in the article, "Hurricane season is a unique challenge for offshore superintendents," by Howard Richman.
A GCSAA Class A superintendent at Puntacana Resort & Club, Diaz and his crew were getting ready for the first-ever PGA Tour event in the Dominican Republic when the island was devastated by Hurricanes Irma and Maria. The two hurricanes, which hit only weeks apart in September 2017, caused significant damage to the golf course, destroying entire greens just as Diaz was preparing to host the historic Corales Puntacana Championship PGA Tour.
Determined to get his course back on track, and thanks to both years of careful planning and working day and night through the fall of 2017, Diaz and his team were able to restore and reopen the course by mid-December. The effort was nothing short of amazing—a testament to their dedication.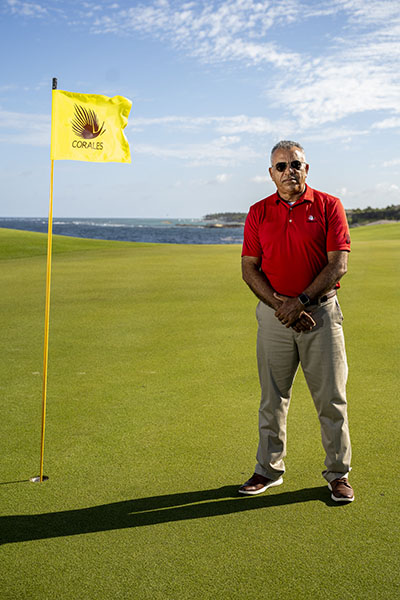 Diaz credits his successful career and ability to navigate these complex and unexpected situations to his Professional Golf Turf Management School Two-Year Certificate Program education. "Attending Rutgers Turf Management School Program was a turning point [in] my career as a golf course superintendent," he said. "[Rutgers] provided me with the technical knowledge and the tools that helped me find solutions to do my job at the highest level in the industry."
Check out the article on GCMonline.com to read more about the effects of the hurricanes and how Diaz and his team worked through this unique challenge to host a successful and momentous event.
Congratulations to Julio Diaz for his fantastic work at Puntacana Resort & Club!
Learn more about the Rutgers Two-Year Turf Certificate!