Main Content
GCM has announced that Travis Campbell, a second-year student at the Rutgers Professional Golf Turf Management School, will be recognized at the 2023 GCSAA Conference and Trade Show in Orlando, Florida, on February 8 as the inaugural recipient of the GCSAA Larry Powell Scholarship award.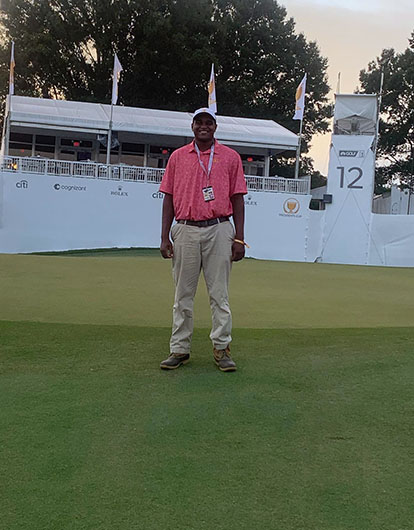 The Larry Powell Scholarship, established in 2022, focuses on individuals from underserved populations to ensure that underrepresented demographics have the opportunity to pursue their dreams and further their golf course management goals. "It is a blessing that the GCSAA organized this opportunity for the African American demographic in the turf industry while honoring the legacy of the Powell family," said Campbell. "This award will help pay for my education and set me apart from other candidates for opportunities in the future."
A respected member of his class, Campbell is a twice-elected class president. He is also the recipient of the 2022 Ralph Engel Scholarship and the Ralph Geiger Scholarship, both of which are awarded through the Rutgers Center for Turfgrass Science. "My decision to attend Rutgers to further my education and career is the best choice I have made in my life!" Campbell said. "Being able to learn alongside the best students our industry has to offer while learning from the best and most studied turf professors in the world motivates me to get better every day."
More information about Campbell and this scholarship award can be found in the GCM Online article, Travis Campbell awarded the inaugural Larry Powell Scholarship.
We are thrilled to congratulate Travis Campbell on receiving this award and are incredibly honored to have Mr. Campbell representing Rutgers and the Rutgers Professional Golf Turf Management School!
Learn more about the Rutgers Two-Year Turf Certificate!