Main Content
Written by Margaret McHugh; originally published August 29, 2012
His home inspection business hurt by a sluggish economy, Michael Lloyd decided to branch out, gaining skills to fix a major concern in his South Carolina community: high levels of indoor radon.
Lloyd last year became nationally certified to mitigate radon – a gas estimated to cause 21,000 lung-cancer deaths a year in the United States – at Rutgers University's Eastern Regional Radon Training Center (ERRTC), one of four such centers established by the U.S. Environmental Protection Agency.
Lloyd, whose business is based in Moore, S.C., has completed 100 mitigation jobs since he became certified. "It turned things around," the former Garden State resident said.
Rutgers radon programs are helping individuals enhance their resumes and launch careers in a field that can save lives. It prepares students to pass national certification exams and tests that some states, including New Jersey, require for certification. Environmental scientists, health specialists, home builders, master plumbers, and home inspectors are among the professionals who sign up for Rutgers radon training programs.
Students learn the science behind radon and its impact on health, as well as how to accurately measure levels and design effective mitigation systems. A course in radon measurement teaches students where, why, how, and when to test for radon. Students in the three-day radon mitigation course learn how air pressure affects ventilation, how radon moves through water, and techniques to mitigate radon in both old and new construction. A simulated attic radon mitigation system, affectionately known as the slab , is one of several pieces of ERRTC equipment that provides radon students with hands-on training experience.
The number of radon professionals certified in New Jersey grew about 12 percent over the past decade, according to state Department of Environmental Protection statistics. The increase was mostly in certifications for measuring radon levels; the number of mitigation certifications held steady.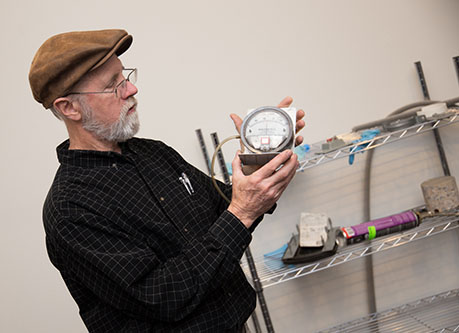 Lloyd chose Rutgers after speaking with Bill Brodhead, Rutgers' lead mitigation instructor. "He gave us examples of real-world experiences and had pictures of how he handled difficult cases," Lloyd said. "I still pull out my notebook."
Brodhead began testing for indoor air problems in the early 1980s, when he was building custom homes. His company, WPB Enterprises Inc. in Riegelsville, PA, has installed more than 7,000 mitigation systems and the website gets 200 hits a day, many from homeowners concerned about their family's safety.
"We're really helping people," he said.
Brodhead has seen his students build successful radon businesses. "There's definitely business opportunities," especially in communities with high concentrations of radon and few radon professionals, Brodhead said.
Radon is the second leading cause of lung cancer in the United States, but experts believe its deadly effects can be greatly reduced if homes are tested and remediation systems installed when concentrations approach or exceed what the EPA deems unsafe levels.
Radon is created through the natural decay of uranium in rocks and soil. Levels are typically low outdoors because of dilution, averaging about 0.4 picocuries per liter (pCi/L) of air. The level of radon in a given home depends on the amount of uranium in the underlying rocks and soils, the points of entry, and the rate of exchange between indoor and outdoor air. The EPA reports that the average indoor radon concentration is about 1.3 pCi/L, but that 5.1 million homes have indoor radon levels above its recommended action level of 4 pCi/L.
Without a doubt, indoor air quality is critical in our homes, schools, and businesses. If you are interested, become certified in radon measurement and/or mitigation and do your part in the fight against this odorless, tasteless, invisible and deadly gas.
Learn more about the Eastern Regional Radon Training Center!