Main Content
Originally published October 24, 2022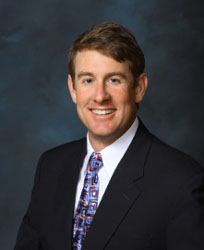 Keith Wood, a 1998 Rutgers Professional Golf Turf Management School alumnus, was recently featured in the September 2022 edition of Golf Course Management Magazine (GCM) in the article "Quail Hollow prepares for a delayed Presidents Cup" by Andrew Hartsock.
Wood, a GCSAA Class A Director of Green and Grounds at Quail Hollow Club in Charlotte, NC, recently hosted the 2022 Presidents Cup tournament this past September. This prestigious event is typically held every other year. However, due to Covid-19 related postponements, the last Presidents Cup held was in 2019. As a result of this delay, the Presidents Cup return was highly anticipated this year, putting Wood and his crew under even more scrutiny. And as expected, Wood and his team delivered a successful event.
Preparations for the event included not only the typical tournament preparations, such as re-sodding, renovating a bunker, mowing, and more, but over half a million square feet of construction to accommodate flooring for corporate suites, grandstands, etc. This construction was overseen by Wood and one of his three assistants.
Wood credits his successful career and ability to navigate these high-profile events to the education he received in the Professional Golf Turf Management School's Two-Year Certificate Program. "The Rutgers Professional Golf Turf Management School gave me the educational foundation to build a solid career in the golf turf industry," he said. "The schedule, instructors, and classroom setting put me in a position to learn what I would be experiencing on the golf course."
Check out the article on GCMonline.com to read more about how Wood and his team prepared for the Presidents Cup.
We want to congratulate Keith Wood for his fantastic work at Quail Hollow Club!
Learn more about the Rutgers Two-Year Turf Certificate!