Main Content
Les Carpenter, Jr. graduated from the Rutgers Professional Golf Turf Management School's Two-Year Certificate Program in 1978. He is currently the golf course superintendent at Newton Country Club in Newton, NJ. In 2016, he was selected to receive the Rutgers Professional Golf Turf Management School's Award for Professional Excellence. This honor is awarded annually to alumni of the Rutgers program who have excelled in their fields. Recipients of this award have consistently displayed leadership, fellowship, and high ideals. Below is the text of a speech Mr. Carpenter made upon the acceptance of his award.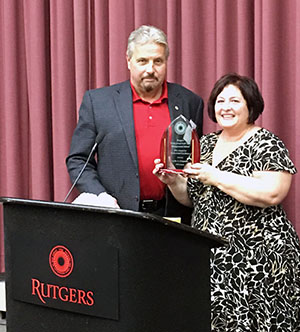 I was honored to be asked to speak to you guys and gals because, honestly, here at Rutgers is where it all starts. I grew up in the golf business. My dad is a retired golf course superintendent who was in one of the very early classes here when the turf program first got started. My younger brother is also a very successful golf course superintendent who attended the Rutgers turf program in the early 80's and has been at his course for 33 seasons. In addition, I am now very proud to say that I have a son who is following in my footsteps and graduated from the program last year. So, as you have probably figured out by now, I am also a product of Rutgers. I attended the turf program in the late 70's, and I have the distinction of being the youngest golf course superintendent ever hired in NJ. I was 20 years old and two weeks out of the program when I started as the head superintendent at Picatinny Golf Club. As you can see, for our family and for all of you, it all starts right here.
Even if you've grown up in this business like I have, Rutgers is where you get the foundation for a successful and rewarding career. This is my 38th season as a golf course superintendent, so I have seen a lot of change in this industry. Almost all of which has been good, and a lot of which has been focused around safety and environmental issues. Golf course superintendents are now viewed as professionals and stewards of the land, rather than just greenskeepers. Turf maintenance practices and membership demands have increased dramatically during those times, along with the amount of monies spent. The great thing is that whether those changes are good or bad, the program here at Rutgers has also changed to keep you as prepared as possible to get started in this industry. In the old days, it was completely about growing grass. Now it covers the whole gamut, starting with the science end of it all, touching on golf course design and landscape and tree management, as well as irrigation practices. You also learn about budgets and, lately, this part in the golf portion of this industry is extremely important. With the downturn in golf, except for at the most exclusive clubs, we all are being expected to do a lot more with less.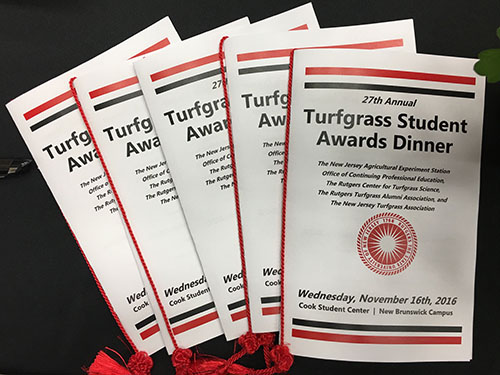 There are also portions of your education devoted to leadership and professional development, as well as interactions with your staff. This is the area I want to talk to you about a little bit, just to offer you my perspective. I was in my office a couple of weeks ago on a rainy morning. It was just after a big night of celebration that the Newton Country Club had for me. It was my 30th anniversary as their golf course superintendent, and I was contemplating how I have been so fortunate to get to this point in my life. Now, step back for a minute and remember, I am a Rutgers grad and have been coming back here ever since for continuing education and to stay current and keep up in the industry. That has prepared me educationally to face the golf course season after season. But what is it that made me thrive at a club for 30 seasons when, according to the latest statistics, the average tenure for a superintendent is eight to ten seasons? In this industry, you can possibly expect to change your job up to three times in a career.
For me, I believe one of the most important factors is to try to be a "people person" and be willing to lead by example. As a golf course superintendent, there are huge demands on your time. There are Greens Committee and Board meetings to attend to, analyzing soil and tissue tests. You are also setting up fertilizer and spray programs and handling all of the record keeping and reporting that must be done for government agencies. This is only a slice of all of the responsibilities superintendents face on a day-to-day basis. All of this is very important and, in most cases, necessary. But I still think that no matter what, a certain amount of the time you have to be out there in the field with the troops, so to speak.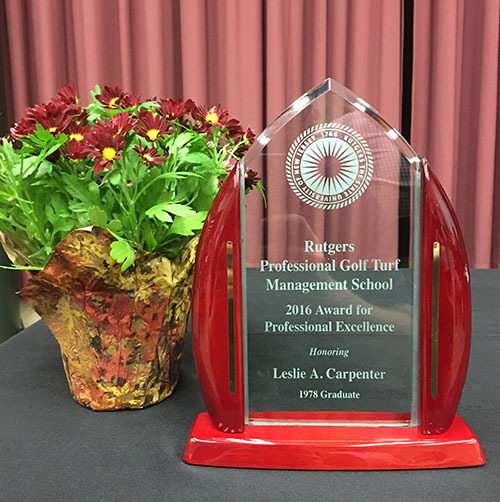 I am as comfortable on a bulldozer as a greens mower. You can still find me changing holes occasionally or out mowing in preparation for a tournament. I can weld and fabricate and have learned to be pretty handy with wrenches also. I am at a small, modest, private club, so some of this may be done out of necessity, but it still does not diminish the importance of being out there. In this industry, you cannot do it alone. You are only as good as your staff. I do not have one person on my staff that would balk at doing anything I've asked of them. It is not because I am their boss or out of fear; they would do it because they have probably seen me do it. All of the best golf course superintendents I know probably are right in the middle of the worst jobs that they may have to get completed, whether they are in a muddy hole working on a crucial irrigation repair or in the midst of a construction project preparing a final grade or laying sod.
I mentioned earlier that I think that this is the key to longevity. My dad was at his course for 28 seasons and only left to retire. My younger brother has been at his place for 33 seasons and is still going strong. Both of these men have the attributes I've described to you, so try to make yourself a leader by example and a true people person. Take this information and this education you are receiving here at Rutgers and enjoy yourself in this great industry like I have for the last 30 years and counting.
The last point I want to touch on is about your professional growth after you complete the turf program. I told you I continue to learn here at the Rutgers continuing education programs, but you should also immerse yourself in the professional associations aligned with this industry. I have been a member of the Golf Course Superintendents Association of NJ for over 40 years now and have served on various committees. Presently, I am a Board member. I am also a member of Golf Course Superintendents Association of America. I am involved there too in the Ambassador Program, working with local politicians on golf and turf related policies, and also the Melrose Leadership Academy, working on scholarships for golf course superintendents to attend the Golf Industry Show (GIS). There is also the New Jersey Turfgrass Association. All of these organizations offer great opportunities for networking and education. By joining and participating in these groups, you can take advantage of invaluable interactions with your peers and create lifelong friendships with people who have similar interests to you.
Thank you.
Learn more about the Rutgers Two-Year Turf Certificate!