Main Content
Written by Margaret McHugh
Keith 'Skip' Douglass gave up a coveted job as a golf course superintendent in Texas to enroll at the Rutgers Professional Golf Turf Management School in the fall of 2011. Douglass and his wife had decided to relocate to Scottsdale, Arizona, and he wanted the prestige of a Rutgers Turf certificate to succeed in that golf mecca.
Douglass knew the Rutgers course would be intense, so when he felt exhausted after class each day, he chalked it up the stress of being in school after a more than 30-year hiatus. But as the weeks passed, he developed other symptoms – severe nosebleeds, bruising, and night sweats – and blamed them on the moister climate.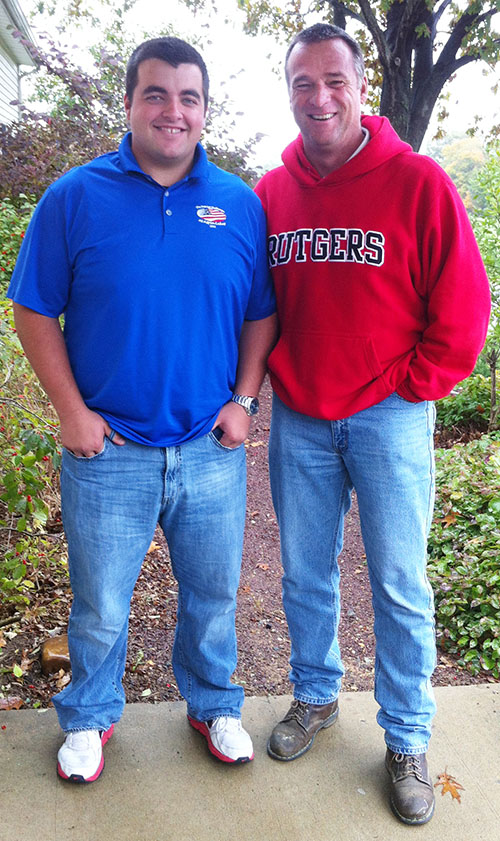 It wasn't until he completed the first 10-week session of the school and headed back west that he discovered why he was feeling so lousy: a bone marrow biopsy showed he had an unusual form of leukemia.
His doctor at Scottsdale Healthcare in Arizona hospitalized him immediately and began a seven-day course of the chemotherapy Cladribine to knock the hairy cell leukemia (HCL) into remission. The treatment also knocked out his immune system, and he spent another three weeks in the hospital before going home to recuperate.
"I remember the fear, with my immune system so compromised," said the father of three.
Through it all, Rutgers classmate Josh Knapp kept in weekly phone contact with Douglass. In spite of their age difference – "I have kids almost his age!" Douglass said – the two had become good friends. Knapp was visiting Douglass in Scottsdale in September when Douglass got the results of his latest bone marrow test: the leukemia had returned.
Douglass and his wife faced a formidable decision: stay in Arizona for his next round of treatment, or return to New Jersey for the second 10-week session of the Golf Turf School and undergo treatment there.
For Douglass, the decision was clear. "I wanted to finish what I started. Nobody in my family ever had college of any kind," he said. "I decided one way or another, I was going to earn a college certificate."
Before becoming a golf superintendent in Amarillo, Texas, Douglass had held a hodgepodge of jobs, from licensed barber and cabinet maker to prison guard – the kind who sits atop a horse with a shotgun and oversees crop-picking. But he had discovered a love of golf while in high school and, while a guard, worked part-time in a golf pro shop.
In 1990, when a national PGA tour played at the Amarillo Country Club, Douglass caddied for one of the players, which led to a three-year gig on the road. When that ended, a friend suggested Douglass "get in the dirt." Starting as a laborer, he worked his way up to golf course superintendent, a position he held for seven years.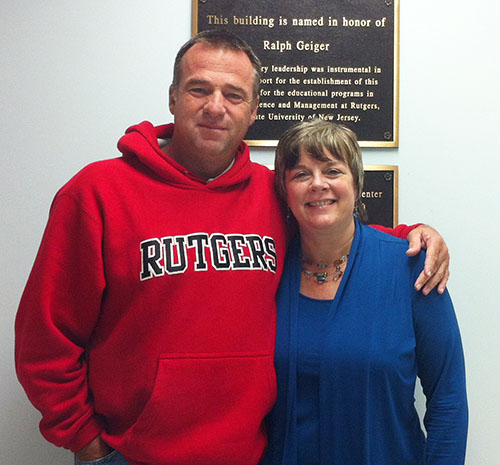 When Douglass called to inform the Rutgers program about his situation, he reached Rosemary Mahony, administrative assistant to then-Director Ned Lipman. Mahony, who had undergone treatment for lymphoma in 2011, immediately took Douglass under her wing. She referred Douglass to The Cancer Institute of New Jersey in New Brunswick and the day before his first appointment, Mahony gave him a tour of the hospital to put him at ease.
"It's a scary place to be, especially when you're 2,400 miles from home," Mahony said. "I didn't want him to have to walk blindly into it."
Douglass called Mahony "my little angel in New Jersey."
The whole school rallied behind Douglass. The instructors at the golf turf school were notified of Douglass's situation and "they are all willing to help him through this," Mahony said.
Knapp drove cross-country with Douglass to New Jersey and was one of his four roommates. "I told him I would be there to help him study and whatever else he needed," the Redmond, Oregon native said. "We were all ready to help."
After Douglass graduated in December 2012, he continued chemotherapy treatment for several months back in Scottsdale. While HCL is incurable, it is treatable and those with it can live long lives.
He did his turf internship at The Legacy Golf Resort in South Phoenix and was offered a job as second assistant superintendent upon graduation. Later, he went on to assistant superintendent and superintendent roles at Desert Mountain, a private golf club and community in Scottsdale, AZ. Most recently, Douglass has been working at Pueblo Del Sol Country Club in Sierra Vista, AZ.
"I don't want to go on disability. I've got a lot of work years left in me," Douglass said. "What I've learned from this is I've got to live every day the best that I can."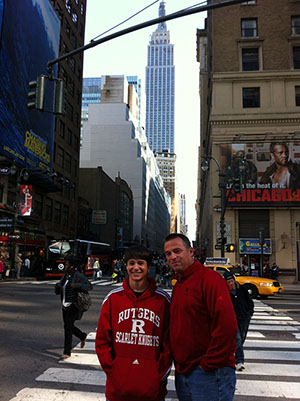 Learn more about Rutgers Professional Golf Turf Management School!