Main Content
Written by Rebecca Rathmill; originally published Spring 2010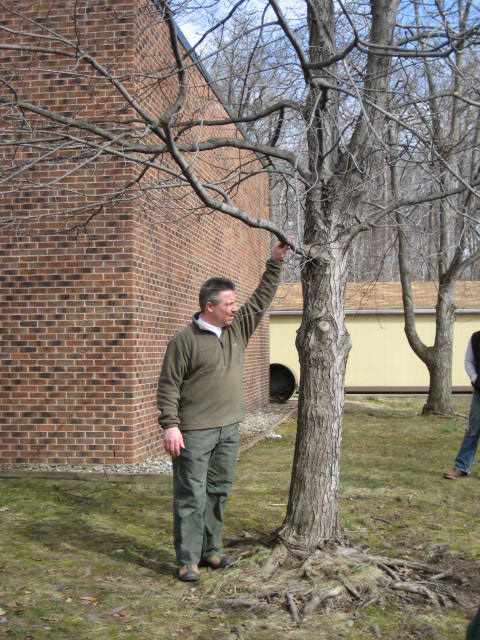 Most people hear "tree pruning" and think it's no more than hacking off a limb here or a limb there, but there's so much more to it than that.
"Pruning is removal of plant parts for a specific purpose," explains instructor and Licensed Tree Expert, Ted Szczawinski. Whatever the reason – aesthetics, health, safety – pruning can involve limbs, bark, roots, fruits, leaves, or buds, he said.
Getting students to recognize that pruning encompasses the whole plant is just one of Ted's goals when he teaches the Tree Pruning short course.
The class is one of several tree care courses offered by the NJAES Office of Continuing Professional Education (OCPE).
Third generation arborist and co-instructor of the OCPE's popular Hazardous Tree Identification course, Steve Chisholm, sums up what the pruning course is all about in one simple phrase: learning the importance of pruning with a purpose.
"Everything you do affects the tree, not just temporarily, but for the life of the tree," he explains. "There's a science behind it that needs to be understood."
Over 140 students have attended this once-a-year class since 2012 and during that same period, over 650 people have received tree care training at Rutgers. Students in these classes represent municipalities (departments of public works, parks & recreation, and highway), as well as shade tree commissions, tree care companies, private landscape contractors, golf courses, condo associations, nurseries, and even cemeteries.
Lessons Learned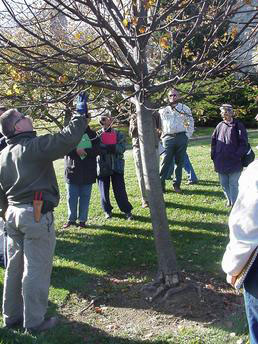 Many students register for Tree Pruning just to increase their awareness or, as one student put it, to learn how "to stop killing trees." But they leave with much more. From "no more flush cutting" to limiting pruning to "25% or less of a tree at a time," participants come away with specific new skills and knowledge that they can immediately apply on the job.
Some of the best lessons were on the basics: use common sense; extend tree life; less is more. As J.L. Thigpen, owner of a tree service company, noted, "Pruning doesn't have to be extensive."
Even those who don't actively maintain trees were enlightened. Corrado Caterina of the Borough of Milltown Shade Tree Commission came away knowing how to evaluate a tree's condition for the purpose of specifying third party work – a skill that can save the commission time and money.
"Awesome" Instructors
Another reason students register for this and other OCPE tree care courses: the reputation of the amazing faculty. Not only are the instructors well-known tree experts, they also happen to be great teachers.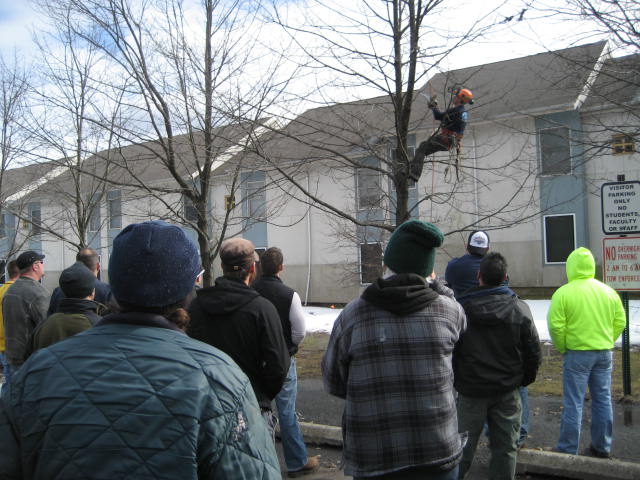 Pruning instructor, Ted Szczawinski, is a bit of legend who seems to have a growing fan base. "Another stellar performance," one student praised. "Awesome as usual," lauded another. In 19 course offerings taught since 2010, 99% of attendees polled gave Ted top marks (4.8 out of 5 stars).
Students love that Steve Chisholm "knows his trees" but is also "smart and enthusiastic," "easy to understand," and provides "great visual aids and explanations."
Mark Chisholm, who joins his brother teaching the Large Tree Climbing and Rigging course, is a state and world award-winning tree climbing champion who is "awesome in every aspect." Together, Steve and Mark also earn top marks from students (4.9 of 5 stars). Put another way, "Rutgers is lucky to have Steve and Mark teach this class!"
Tree Care Training Opportunities
OCPE regularly offers these arboriculture classes: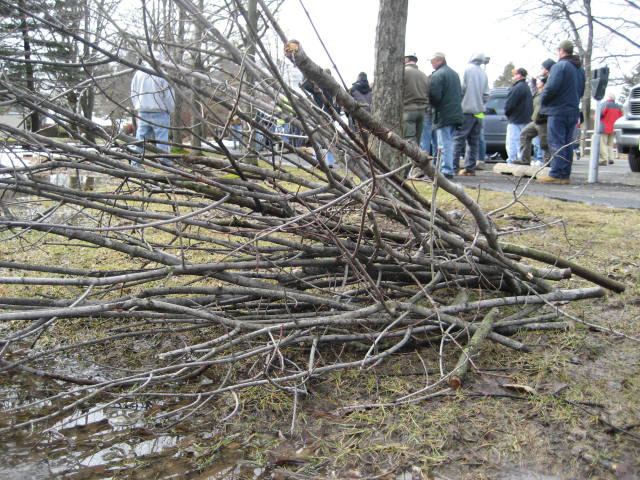 Landscape Training Opportunities
The tree care courses are part of over 65 landscape-related short courses held throughout the fall, winter, and early spring by the OCPE. These trainings run from November through March each year covering topics ranging from pesticide safety and landscape design to equipment maintenance and turfgrass diseases.
Learn more about Rutgers' Tree Care Courses!