Main Content
Written by Margaret McHugh
Discovering a Passion for Turf
The seeds of Eric Harshman's second career took root during his 12-year enlistment in the Indiana Air National Guard. That's when he began helping out at his in-laws' golf course, and discovered a passion for turf.
"I fell in love with it, working outdoors with my hands," recalled the former aircraft armament technician.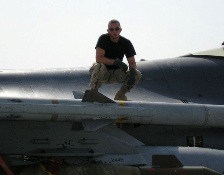 Harshman joined the Indiana Air National Guard right out of high school so his parents wouldn't be saddled with paying for his college (he earned a bachelor's degree in marketing and graphic design).
He did three tours of duty in the Middle East, loading aircraft with 5,000-pound bombs and fixing fighter jet weapon systems. Standing on a roof at his base in Qatar, he could see for miles – and there was no green.
When Harshman's tours ended, his commanding officers granted him time to attend the Rutgers Professional Golf Turf Management School's Two-Year Certificate Program in the fall of 2007.
The intensive certificate course involves two 10-week classroom sessions during the off-season, with an internship in between. There are two sessions a year, one in the fall and another in winter. While the program is known for producing skilled golf course superintendents, many graduates go on to maintain professional and collegiate athletic fields, parks, and the grounds of corporations and universities.
"The program is geared for golf, but everything you learn – about soil, grasses, insects, and diseases – can be applied to any turf management," said Fran Koppell, the Turf School's former senior program coordinator.
Using G.I. Bill® Benefits for Turf Management Training at Rutgers
Eric used his GI Bill® education benefits to attend the non-credit job training program. The turf school is among more than 300 programs offered by the Rutgers Office of Continuing Professional Education (OCPE) that help U.S. veterans take the next step.
"We appreciate the sacrifices our military men and women make for us, and we are proud to be able to give back to veterans by providing them the education they need to advance their second careers," said Edward V. Lipman, Jr., former OCPE director.
Though stationed at an Air Force base in Fort Wayne, IN, Harshman chose Rutgers' program because of its reputation. "In this industry, networking is huge and Rutgers attracts people from all across the country," he said. "When I have a question, I have a huge list of people I can reach out to."
Finding Success in the Sports Turf Management Industry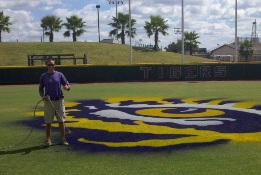 The veteran did his internship at the Cincinnati Reds' Triple-A baseball stadium in Louisville, KY, and was hired as assistant sports turf manager when he graduated in 2008. In June 2011, the same month his military service ended, Harshman became the assistant sports turf manager at Louisiana State University, where he managed 5-6 student employees and multiple fields.
Thanks to contacts he made back in Louisville, Harshman landed an assistant sports turf manager position at the University of Kentucky in July 2013.
Along with his personal connections, he credits his knowledge of the South Eastern Conference and collegiate sports procedures for helping him secure that job. But his education at the Rutgers Golf Turf School was a major factor in preparing him, since the difference between golf turf management and sports turf management is negligible.
"All the science is the same," Harshman said. "The major difference is the height at which the grass is mowed."
At the University of Kentucky, Harshman oversaw 3 full-time staff and 12-14 student employees, maintaining the soccer fields and softball stadium. He enjoyed the variety of his job, dealing with multiple sports and interacting with different coaching staff members. But one of his favorite aspects was the high level of responsibility.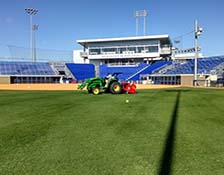 "My supervisor gave me free rein to spread my wings and do what I saw fit as far as maintenance practices and scheduling staff," Harshman said, reflecting on his time at the University of Kentucky. "I wasn't the head guy, I didn't have that title, but I had ownership over what I was doing. That's a great feeling."
Following his tenure at the University of Kentucky, Harshman took on the roles of Head Groundskeeper for the Lexington Legends professional baseball team, later, and Grounds Superintendent at Berea College. Currently, he is the Grounds Superintendent at Transylvania University and was named a Certified Grounds Manager by the Professional Grounds Management Society in 2022.
Having his commanding officers grant him the time off to attend Rutgers changed Harshman's career and life. "I loved what I was able to do for my country, and what the military did for me," he said.
GI Bill® is a registered trademark of the U.S. Department of Veterans Affairs (VA). More information about education benefits offered by VA is available at the official U.S. government website at http://www.benefits.va.gov/gibill.
Learn more about Rutgers Professional Golf Turf Management School!