Main Content

If you are deciding between a Golf Course Turf Management Degree or a Golf Turf Management certificate, there are many factors to consider. Time, money, and career goals are some primary considerations. Below are some details about Rutgers' turfgrass management degree, certificate, and course options to help you decide which training program will best fit your needs and aspirations.
---
4-Year Undergraduate

DEGREE

in Turfgrass Science from Rutgers University

Rutgers University offers a four-year undergraduate program leading to a Bachelor of Science degree in Plant Biology with an option in Turfgrass Management. This Undergraduate Degree in Turfgrass Science prepares students for exciting jobs in the greens industry or to continue their education towards an advanced degree, such as a Masters of Science or Ph.D.

With more than 25 faculty members working in turfgrass science, the Rutgers team spans many disciplines including: turfgrass breeding, management, physiology, pathology, entomology, weed science, soil science, and molecular biology. In addition, the Center for Turfgrass Science offers a unique opportunity for undergraduates to participate in laboratory and field research.

Numerous student scholarships, grants, and awards are available to students majoring in Turfgrass Management. In fact, more than $90,000 in financial aid is awarded annually to turfgrass students at Rutgers University by the New Jersey turfgrass industry.

Learn more about Rutgers' Undergraduate Turf Degree.
---
2-Year Turf

CERTIFICATE

Program from Rutgers Professional Golf Turf Management School

A unit within the Rutgers Office of Continuing Professional Education, the Rutgers Professional Golf Turf Management School offers a Two-Year Certificate Program. This program is best suited for greenskeepers who have a high school diploma or GED, at least one season of work experience on a golf course or other sports field, and are looking to further their turf management careers with some formal education. Designed to fit conveniently around your work schedule, our program consists of two 10-week classroom sessions and real-world experience via a paid turf internship so that you don't have to put your career on hold.

Our team of instructors includes both distinguished faculty from Rutgers Center for Turfgrass Science and acclaimed industry professionals. Concepts learned in the classroom are demonstrated with hands-on training in our on-site workshop and greenhouse. The Rutgers Two-Year curriculum provides students with the chance to participate in soil tests, reel grinding demonstrations, plant identification walks, sprayer calibration, spreader training, irrigation pipe fitting, disease identification using microscopes, and more.

Students who successfully complete the full program will receive a Certificate in Professional Golf Turf Management. This program is not matriculated. It is not worth college credits. However, a 2-Year Certificate in turf management holds a lot of weight in the greens industry. In fact, according to the 2021 Compensation and Benefits report by the Golf Course Superintendents Association of America (GCSAA), the average base salary for 2-year certificate holders is close to the average base salary for those who have earned 4-year degrees.

Our esteemed alumni lead the industry and work at top golf courses all around the world. Over 4,800 golf turf professionals, from all 50 states and over 20 countries, have graduated from our two-year certificate program since 1962. More than 730 of these alumni are currently working as golf course superintendents or leaders in related turfgrass careers. Plus, an additional 600+ Rutgers turf alumni are assistant superintendents worldwide.

Questions about the Two-Year Turf Certificate Program?
Laura Boyd, Program Coordinator
848-932-7184 | laura.boyd@rutgers.edu

"Rutgers' turf program is great because the Two-Year curriculum allows you to focus on turf management. You can really develop the skills superintendents should have. In fact, I got four job offers before I even completed the Two-Year Program!"
---
3-Week Preparatory Turfgrass

COURSE

from Rutgers Professional Golf Turf Management School

The Rutgers Professional Golf Turf Management School also offers an online Three-Week Preparatory Course covering the essentials of turfgrass management. Every January, students attend class Monday through Friday for three straight weeks. The Three-Week curriculum includes the basics of soils, turf establishment/maintenance/renovation, diseases, insects, weeds, irrigation, equipment selection/maintenance, landscape design/construction, and more.

Who Should Attend:
Experienced greenskeepers who need formal education to advance their careers
Those new to the industry seeking to learn the basics and jump-start an exciting new career in turfgrass management
Golf course owners and general managers whose goals are better communication and coordination with their teams
Industry sales representatives working to better understand the wants, needs, and terminology of their clients
You can minimize your time away from work and save on travel/housing expenses with the intensive curriculum of this condensed online three-week program while learning from the Rutgers Professional Golf Turf Management School's renowned team of instructors. There is no application process or prerequisites.
Our 3-week graduates are working at golf courses and in other turfgrass management roles throughout the US and the world.
Questions about the Three-Week Turf Course?
Suzanne Hills, Program Coordinator
848-932-7234 | suzanne.hills@rutgers.edu
"From networking with international students to getting to know the industry expert instructors, the Rutgers Three-Week Turfgrass Management Course was one of the best journeys I've taken thus far. The knowledge I gained over the three weeks at Rutgers is indescribable. I would not be where I am today if it weren't for this program giving me the extra boost in confidence in managing golf courses."
---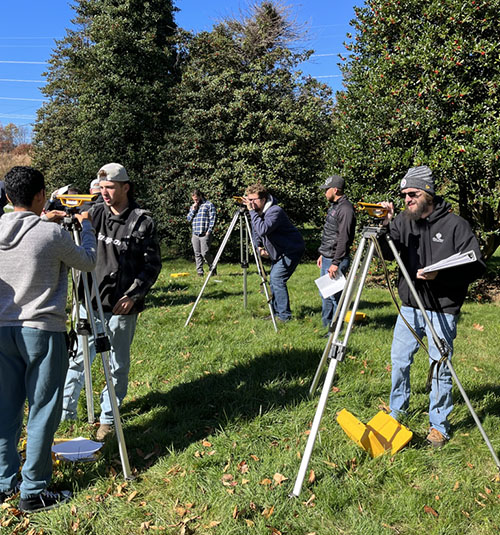 If Turf is Your Future, Make Rutgers Your Now
Whether you decide to pursue a turfgrass management degree, certificate, or course, attending Rutgers will prepare you for employment as a Golf Course Superintendent, Assistant Golf Course Superintendent, Foreman, Irrigation Technician, Mechanic, Spray Technician, Sports Field Manager, Turf Consultant, or Sales Representatives at seed, irrigation, and equipment companies.
Plus, attending Rutgers will connect you with a prestigious RU network. Throughout your career, whether you are searching for a job for yourself, looking to hire someone for your greens team, or have technical questions, the Rutgers alumni network will serve you as an invaluable resource.